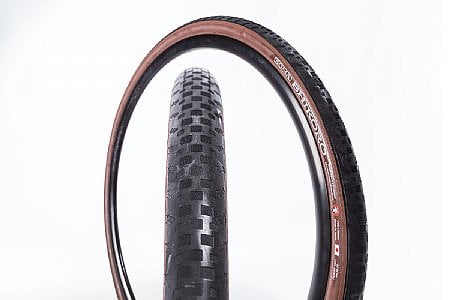 Casual Cyclist
Mamaroneck, NY
Wanted a wider, more comfortable, more durable version of my Continental Grand Prix Classic.
I ride a 1978 Raleigh Competition GS with several comfort modifications. Recently upgraded to H Plus SON TB14 wheels that are wider than the originals and capable of running modern tires. Really liked the conti's but wanted to go wider for more comfort, durability, and flexibility on varying road surfaces. Luckily the 33mm 'just' fit in the chain stays. Currently running 45psi front 50 rear, the minimum indicated is 35psi. Really smooths out the rough roads and I can do more trail riding too. And they maintain that retro look. I couldn't be happier.
Thank you for your feedback.
Cycling Enthusiast
San Diego
2 of 2 customers found this review helpful.
Just the tire I wanted
I have the 33s on my Soma San Marcos SportsTouring bike. Running about 50-60. I weigh 185. These just float along the road nicely taking out a lot of the frequency vibrations. Tried a 38 on the rear, but it was overkill the ride was the same but the tire weights more. I like the look, who else has brown sidewalls! May not be the fastest tire but they are not slow. The rounded profile corners well. I usually run Gators, which are more upright, and they seem to run undersized, a 3230mm. The Somas are true to size. I have them on HED Ardennes, so on this wide rim they should run a little broader. Only about 300 mi so can't speak to puncture or wear. But I really like the ride, so will order more
Thank you for your feedback.