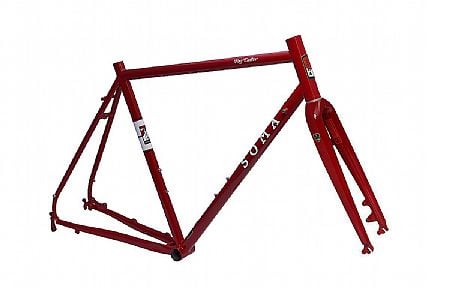 Cycling Enthusiast
San Luis Obispo, CA
Competitive Racer
Portland, OR
5 of 5 customers found this review helpful.
The fog cutter is a fast road gravel machine
I love this bike. It's well designed and much lighter than similar CrMo steel frames from brands like Surly or All-City. I bought it because I was looking for a bike that could function well as a fast commuter, winter road trainerrain bike, and gravel adventure bike.
Pros the ride is fun and pretty snappy (not upright and sluggish like some other all-roadadventure frames), you can hang in the paceline and also ride trails and gravel roads confidently on the same bike, fender mounts on frame fork (the carbon fork has recess for fork crown daruma), tire clearance -
fits fenders with 700c x 33s and 650b x 47, disc brakes make swapping wheel sizes really easy, the paint scheme is sharp.
Cons no frame pump peg, paint chips easily, carbon fork is relatively heavy due to aluminum steerer
Thank you for your feedback.