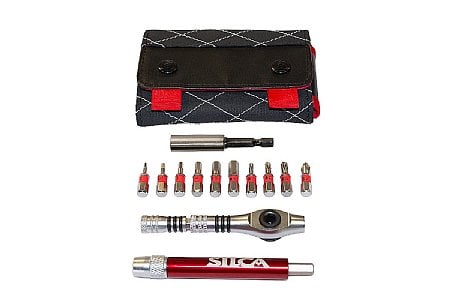 Great package, well made
Silca for the win yet again. This tool is fantastic. Well made, light, nice feel in the hand, durable case that fits well in a jersey pocket.
Also, while not relevant to the product, BTD provided unbelievable service and free shipping on this toolI ordered on a Saturday afternoon and it arrived on Monday midday, in Boston from Oregon. (It was also appropriately packaged in a small box, unlike many competitors who throw small items in giant boxes.)
Thank you for your feedback.
Daily Commuter
winkelman az
Cycling Enthusiast
Maryland, USA
I vacillated...kicking myself for not buying it sooner!
If you travel with your bike and use a bike case that requires partial disassembly, this tool kit is an awesome alternative to carrying multiple tools and a torque wrench! It's small, it's beautifully made, it's extremely well-designed, and it's not very heavy at all...winner!!! (this is why I bought it)
If you want to make micro adjustments to your cockpit on the road or trail and don't want to guess at torque settings...winner!!!
If you have no tools at all and want to invest in good-quality tools for home repair/maintenance...winner!!!
My experience...100% satisfied.
Thank you for your feedback.
Cycling Enthusiast
Garden Grove, CA
Pro tool set
I use this tool kit for everything, ratchet and torque in one tool, Nice.The tool pack comes with all the bits you need for your bike. This is a well made tool set, easy to use packs up in its own case and is easy to carry with you when you ride.
Thank you for your feedback.
1 of 1 customers found this review helpful.
Compact and light
Very good quality and convenient to have along for longer ridestours when adjustments andor repairs are likely. The pouch keeps everything together in a very compact size - fits easily in under-seat pack with other tools and parts.
Thank you for your feedback.
Just what I needed.
Very well made and has everything you need for normal adjustments and maintenance on you bike. The price might be somewhat high but I can tell this will last a long time, and the torque settings seem to be accurate enough.
Thank you for your feedback.
Cycling Enthusiast
Huntington Beach California
3 of 3 customers found this review helpful.
Ridiculously high quality and excellent design
72 tooth ratchet is amazing. Tight tolerances, high quality steel and aluminum materials. Nice finish. Multiple configurations possible with torquer extension and well designed ratchethandles. Torque markings easy to read and nice to have on steel and aluminum. Must have on carbon fiber. Expensive, but so is a Rolex and worth every penny. Only improvement would be to make the bag just a bit smaller or redesign as a roll bag to fit into under seat bag or butt pack better...
Thank you for your feedback.
Cycling Enthusiast
San Diego, CA
1 of 1 customers found this review helpful.
Beautifully Made
I haven't had a need to use it yet, so I'm not going to rate it for anything other than it's finish and design. It is truly beautifully made. And the engineering that went into it seem to be top notch. If I have a minor quibble with it, it is that when it's packed up in it's carrier, it could be more compact. It is a little bit of a space hog in an under seat bag.
Thank you for your feedback.
Cycling Enthusiast
St Pete,FL
Cycling Enthusiast
Los Gatos, CA.
Cycling Enthusiast
westside, yo.
Beautiful quality product
Bought this as a thank you gift for a friend who has everything. I couldn't resist opening it and checking it out. Super premium quality feel and thoughtful details. Only wish I bought one to keep for myself so I could put it through a more rigorous field test.
Thank you for your feedback.