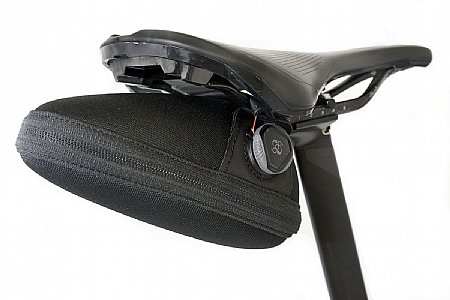 Cycling Enthusiast
North Texas
1 of 1 customers found this review helpful.
Works as designed after easy fix for stiff zipper.
I was looking for a seat bag with more internal space. I liked the design of the Capsule Premio even if a bit "put off" by other reviewers comments on the zipper not being user friendly. Sure enough the zipper was so stiff it almost made the bag a liability for usage. My solution has been to apply a lithium grease to the "teeth". Yep, a couple of applications of grease along the outside of the has loosened up the zipper and it now easily performs as designed. It is nice to access the internal cargo area without having to remove the bag (capsule). A simple fix.
Thank you for your feedback.
Cycling Enthusiast
Las Vegas
Cycling Enthusiast
Portland
3 of 3 customers found this review helpful.
fits what you need - zipper sucks
I bought this for the extra room and simple attachment. I can fit a 28mm tube, mini tool, patch kit, 2 CO2 cartridges and other miscellany easily. The boa ratchet works well, it's easy to get into the right place and it doesn't rattle around. No velcro straps and other annoyances. I have 500 mi of road and gravel on mine. I really want to like it, but the zipper is horrible and sticks all the time. A better zipper and this would be a favorite
Thank you for your feedback.
Cycling Enthusiast
Mesa, AZ
1 of 1 customers found this review helpful.
Good product, holds enough.
Seems to be able to hold more and it is easier to access went needed. I use it on my road bike. I carry two tubes, two CO2 cart., control valve, two tire tools, tire and tube patch, and a small combo tool. Think you could still add a little more, but not much. The way it opens (compared to my previous rear opening bag) is significantly nicer for accessing supplies.
Only concern is the zipper. Not sure how well it will hold up, so far so good. It does not secure around the seat post so it does move some, however can't say it is an issue. Maybe more important on Mt, bike. It does not touch my legs while cycling.
Thank you for your feedback.
3 of 3 customers found this review helpful.
Sending it back
I've used some other Silca products before and liked them but this is a total fail.
MOSTLY GOOD I like the BOA connection, though it doesn't hold the bag far back on the rails as shown in the pics. No matter how hard I cranked it down, the bag slid down the rails till it rested agains the seatpost. Not a deal breaker, but I prefer saddlebags that sit as far back as possible so I don't brush them with my thighs.
SO-SO Internal organization. It's a rounded clamshell, which does look cool, but it's not the most efficient for storing stuff. Rectangular and boxy isn't as sexy, but works better IMO.
COMPLETE FAIL The zipper is a useless piece of crap. After just a few rides it's almost impossible to open or close. I've resorted to scrubbing it with a toothbrush but it's simply not usable. If you never ride in wet or dirty conditions you may have a different experience but I think Silca needs to go back to the drawing board on this one.
Thank you for your feedback.