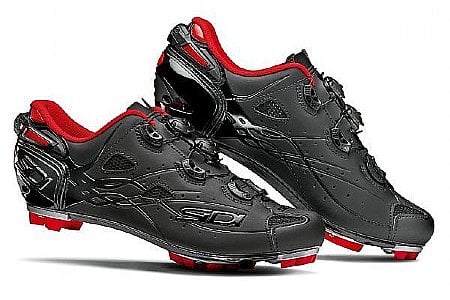 Top of the line-awesome shoe!
I wear a pair of SIDI road shoes and decided to purchase these around the beginning of the year when BTD put them on sale (just too good to pass up!) to replace an aging pair or LAKE MTB carbons. They fit amazingly well and I really appreciate the lacing system as it allows for micros adjustments for the perfect fit. Truly, these shoes feel awesome from the time you put them on until you finish the ride.
Thank you for your feedback.
by
Crankijames on pinkbike
Competitive Racer
Seattle WA
Sidi sizing increased over last several years - road and mtb
I've been wearing and still have all my Sidi road and mtb shoes since 2001. For several years my size was always 43.5 road, mtb, even top shelf motorcycle track racing boots, and dual sport moto boots. 43.5, in all of them from the top model. My last road shoe was an Ergo 2 carbon. When I got a newest generation Wire 2 and Shot air they were both too big by .5 size.... Upon comparing to 43 to be sure in case it was a production or slighter sizing issue than expected, the 43 was perfect to even still slightly plenty big.
However, I ride in all weather and seasons so the now .6 size too big 43.5 are actually just fine for a thick DeFett "Woollie Boolie" sock which of course never had fit in the older model 43.5 shoes. For MTB the slight oversize of 43.5 is not too bad in summer weight socks though because if there's any hiking to deal with, not having your toes ultra-efficiently at the end of toe box is actually a good thing, especially on the 30-50 mile trail days.
My guess is the sizing changed when their materials had a major overall change to synthetics in the late 2000's or whenever the Ergo line ended.
Thank you for your feedback.
3 of 3 customers found this review helpful.
Best shoes.
My previous pair of Dragons were actually a touch small for me. One toe was a bit cramped at the front of the shoe unless I kept it really tight. The solution was to buy a new pair one size larger. These are even better than the Dragons. I like the adjustments being in the centre rather than offset. The only problem is that on one shoe the cable is a bit frayed. Thankfully these things are all replaceable on these shoes.
Thank you for your feedback.