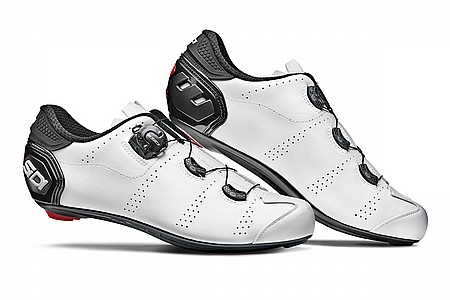 Competitive Racer
New York
Like all Sidi shoes, an Excellent Product
I would advise you to disregard negative reviews of these excellent shoes. Anyone who's been riding more than a few years would know that all Sidi shoes are high-quality, hand-made Italian shoes, built on a rather narrow European last. I have a narrow foot, and I am grateful that Sidi is business! If anything, this model is roomier than my past Sidi shoes (more like a standard D). Narrow is good in cycling. You don't want your foot to spread when applying a lot of force (unless you want sore feet at the end of the day). If you have wide feet with short toes, then perhaps Sidi is not the brand for you, although they do have a "Mega" option on some of their models for people with wide feet. Regarding the cleat holes, they are in the same place as all other Sidi soles: exactly the right place for proper alignment, and they offer plenty of adjustment, at least with the Look cleats I use. They don't offer fore and aft slots, and that's probably a good thing, as it will keep inexperienced people with faulty ideas about metatarsal alignment from putting the cleat in a bad position! Sidi makes excellent high-quality shoes with rigid soles for serious riders, and this model is no exception.
Thank you for your feedback.
Competitive Racer
California
4 of 13 customers found this review helpful.
Another poorly designed cycling shoe
1) Cleat bolt holes vs slots limiting the cleat adjustment to just that of the cleat instead of using 'slots' to allow cleat to be placed in the correct position.
2) Cleat bolts located more forward which makes it impossible to get the cleat located correctly.
3) Narrowest last (sole) design so that many cyclists 1st and 5th metatarsals are not making contact with the sole of the shoe.
4) These issues are common for all Sidi shoes.
Thank you for your feedback.