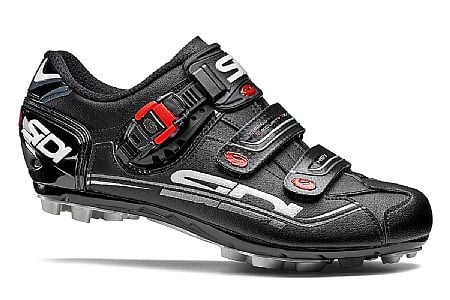 Competitive Racer
Bellingham, WA
Mega really is MEGA
Since my foot is borderline wide I thought I would give the Mega version of this shoe a try. I've had a few pairs of Dominators over the years, and they have always been just a little on the snug side.
These overcompensate - by a lot. At max tightening I was barely able to get the shoe to close securely over my foot. The strap on the buckle was pulled so far on the inside part of the shoe that it hits on the cranks every time I pedal.
If you have a truly wide foot, then these are probably for you. If you'd like something with just a little more room than the regular Dominator, then you'll be happier with an alternative.
Thank you for your feedback.
Cycling Enthusiast
ILLINOIS
FALLSPRINGBAD WEATHER SOLID CONTENDER SHOES!!!
I BOUGHT THESE FOR COLDER WEATHER AND BAD WEATHER. I NEEDED A SHOE I COULD WEAR WOOL SOCKS WITH AND BE REALLY COMFORTABLE BUT CHEAP ENOUGH THAT I WOULDN'T HAVE A HEART ATTACK IF THEY GOT COVERED IN MUD OR IF I HAD TO WALK HOME IN THE RAIN OR SNOW. I WOULDN'T RECOMEND THESE AS A RACING SHOE OR AN ONLY ONE PAIR OF SHOES OPTION BUT A SOLID COMMUTER AND BAD WEATHER OPTION. I WOULD SAY THEY'RE A SHIMANO 105 OR A SRAM RIVAL LEVEL SHOE OR ON THE FIRST TIER OF SERIOUS CYCLING SHOES. IF THE RATCHET CLOSING SYSTEM WAS ANOTHER VELCRO CLOSER I WOULD LIKE THEM EVER MORE. THE RATCHET SYSTEM IS A LITTLE ANNOYING BUT NOT A DEAL BREAKER BY ANY MEANS.
Thank you for your feedback.
Great shoes!
Caught the sale price on a pair of Sidi Dominator 7 Mega shoes. Slightly wider than the standard width which tends to run narrow & alleviated problems with corns on little toes. Delivered in a reasonable amount of time & would recommend them to other cyclists.
Thank you for your feedback.
Cycling Enthusiast
Central Oregon
Great shoe especially if you have a higher arch or instep and a wide foot
New purchase and I am very happy with this shoe....I have a wide foot with a high instep and this shoe is very comfortable with lots of room for my feet. The Bolo system in my previous shoe was not comfortable and the ratchet closure is much more comfortable.
Thank you for your feedback.
Cycling Enthusiast
St Paul, MN
1 of 1 customers found this review helpful.
The answer to my wide foot problem
My 2nd pair of Mega's now joining my Sidi mega road shoes. Love the fit and the comfort that the wide toe box gives me and my bunion. Narrower shoes eventually cause me a lot of pain. Shoe construction quality is excellent.
Thank you for your feedback.
2 of 2 customers found this review helpful.
Same high quality Sidi shoe in a wider last! Very happy with fit. High price but worth it if fits your needs.
I have a huge bunion on my right foot and need EE, wide shoes to keep from irritating the bunion and making me lame. This MEGA did the trick. I put an extra insole in the left shoe which allowed me to tighten the straps for a good fit on the left foot also.
Thank you for your feedback.
Cycling Enthusiast
Los Angeles, CA
Fantastic-Sidi Quality and comfort
Best cycling shoe for comfort and quality. Have tried Shimano, Mavic but keep on coming back to Sidi for fit, comfort and quality. Been using their products for MTB, Road and Motorcycle and they are simply the best.
Thank you for your feedback.
Casual Cyclist
Brookfield, WI
Cycling Enthusiast
Dallas, Texas
Cycling Enthusiast
Chino Hills, Ca.
2 of 2 customers found this review helpful.
I have 12.5 size 2E feet and theses fit as closely as any. Tried shimano XC61, XC51, XC90, giro Code. All too tight, too short, or both.
I actually use this on my road bike with Shimano spd 600 single sided pedals. Like the ability to walk without looking like a duck, and the shoe has the right amount of stiffness.
Thank you for your feedback.