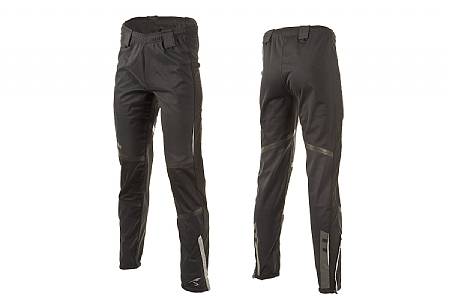 Cycling Enthusiast
Portland, OR
10 of 10 customers found this review helpful.
nice winter alternative to rain pants
These aren't like typical rain pants, nor are they like tights. They're a snug fitting multi-fabric pant that isn't totally waterproof. But they are the one of the best winter riding pants I've tried so far, the other one I rate highly is Sugoi firewall 220 which is more of a loose fitting tight, but these are made better. The SP pants are warm, even when wet. It takes a major rain for them to leak, mostly at the articulated knee, but without the special knee construction they wouldn't fit as nice. One issue for me is when I work up a sweat, the pants start to stick to my legs and then they inhibit my pedaling, but it's not nearly as bad as rain pants with the slick coating on the inside. I really hate typical rain pants for that reason. I'm 155 lbs, 5'-9 and the medium fits perfect, almost tight which keeps them from flapping in the wind. Perfect for commuting in the rainy season and comfortable below 40 deg. I won't wear these on a fast club ride for the reason I mentioned above, tights work better if you're riding hard and working up a sweat.
Thank you for your feedback.
Cycling Enthusiast
Eugene, OR
Not up to snuff
I have purchased other Showers Pass products in the past and have liked them. I bought these pants to continue my cycling through the usual Eugene rain/cold weather winter. I had the opportunity to test them recently and I was quite disappointed. They leaked through the knees (supposedly water proof) and the (not waterproof) side panels. I was pretty wet by the time I got home from a 16 mile ride. BTD was kind enough to give me a store credit and I have since replaced these with a pair of Showers Pass Transit rain pants. While Skyline pants bind less than other rain paints while the riding, the poor rain protection is a non-starter for me.
Thank you for your feedback.
As advertised!
Just what you would expect from a quality pair of rain pants. There is no chamois, so you will need to wear bike short or bibs underneath. That works very well as you can adjust for your comfort level according to the temperature. Highly recommended!
Thank you for your feedback.
Cycling Enthusiast
Park City, Utah
Fat tire snow biking pant
I use the Showers Pass Skyline Pant for fat tire biking on the snow covered trails in Park City. They are highly water resistant. The key function is they allow flexibility in the legs and hips. I can step in and out of the saddle comfortably. I believe they run slightly small. I wear a large, but it is on the tighter side.
Thank you for your feedback.
Cycling Enthusiast
Syracuse, NY
2 of 2 customers found this review helpful.
Perfect for cold winter days, windy, snowy or rainy.
These pants are great for cold winter days, especially when it's nasty out there. I love that these pants go on top of my winter boots, so that rain or snow don't go in the boots. (This happens if I wear regular cycling tights.) The only complain is that they come down while riding, so you would want a suspender.
Thank you for your feedback.
Cycling Enthusiast
SE Connecticut
0 of 1 customers found this review helpful.
100% satisfied with these Showers Pass Skyline pants!
I love these pants!!, (size xl). I wear nothing but jeans off the bike, but like these a lot, so wore them, camping, sleeping in tent, walking about on my bike tour thru Wisconsin. Im 510, jeans say 36-38 inch waist depending on Jean brand. The Showers Pass Skyline pants are very comfortable. I didnt wear them in the rain, but sure they would be just fine for an average rain ride. Some say not 100 percent water proof due to the stretch material at knees, but that is fine with me. I would recommend these to anyone wanting an onoff the bike, very good pair of pants.
Thank you for your feedback.
Daily Commuter
Minneapolis
Great cold weather riding pants
These things are super comfortable and warm for the most part. I bought them for my winter commutes so I don't have to wear too many layers on my legs and have found them to be a good balance between warmth and bulk. My only issue is they're shorter than expected but they still work when I have winter boots on that come up a few inches. With regular riding shoes my ankles get cold. For transparency I am long legged and have a 34.5 inch cycling inseam so I'm not surprised they're a bit short. Good stuff, would recommend.
Thank you for your feedback.
1 of 1 customers found this review helpful.
Great performance soft shells
I'm between M and L and went with a L but the legs are a bit baggy for my liking. Otherwise, they are great pants for light rain and roll up fairly compact if you want to remove mid ride.
Thank you for your feedback.
Cycling Enthusiast
Southcentral Alaska
3 of 3 customers found this review helpful.
A very good set of riding pants.
I've been using the Skyline pant in temperatures down to 6 deg F. At that temperature I'm using one light base layer plus a medium base layer. While you aren't ever going to be very comfortable at that temperature the Skyline still works pretty well. The pant has so far been a very good investment. I purchased a large, and with my 35 waist it fits very well even with the added base layers. At temperatures above 20 deg F, a medium base layer along with the pant works very well. I've yet to ride with these pants above 30 degrees, but I'm confident that they will meet my expectations. They are very comfortable to ride in and do an excellent job of wind breaking and keeping me comfortable in cold conditions. I'm sure that anyone riding during the winter in Pacific Northwest conditions would find this pant keeping them warm and comfortable on their rides.
Thank you for your feedback.
3 of 4 customers found this review helpful.
excellent pant
have not used this pant in rainy conditions bought for winter riding (winter of 2013 which was a tough one) as my outer layer... does an excellent job of cutting down windchill these and winter tights are all that is needed into the single digits I like the Velcro at the bottom of the pant leg keeps the cuff in place
Thank you for your feedback.
Daily Commuter
Portland, OR
Great biking-specific pants for commuting.
These pants are a really thoughtful blend of hard- and softshell. They're great for keeping me from getting soaked on my commute while letting my legs breathe enough that I'm not quick to overheat.
Thank you for your feedback.