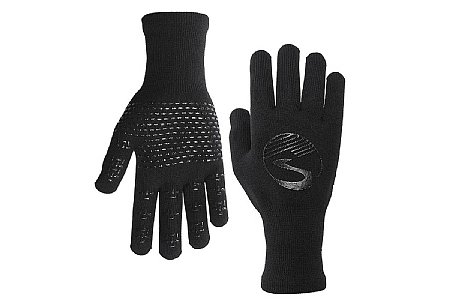 6 of 6 customers found this review helpful.
water resistant not water proof
I bought two pairs when they were first introduced. I ride 200 miles each week commuting and use several other Showers Pass products to include their jackets.
The good -
the gloves fit well and do a good job keep my hands warm. They are not an extreme cold weather glove but between 40 up I have been fine. There are grip drops added to the glove so they do grip well. They also have the Showers Pass logo on your wrist so you can promote their corporate brand everywhere you go - LOL.
The bad - title says it all. When I ride I have my jacket wrapped and velcro'd around the glove so water is not seeping down my arm into the glove. The gloves are just not water proof (as others here have claimed). Granted I ride in extreme conditions year round, but I would expect the R&D and Showers Pass to do the same.
in the end if you can get these on sale and want to use them for late fall and some winter dry rides go for it. but if you buy these with the intent of keeping your hands dry - keep looking... you can do better. I did.
Thank you for your feedback.
Competitive Racer
Portland, OR
1 of 1 customers found this review helpful.
A must have glove for cold and rain
The Showers Pass Crospoint Knit gloves are relatively inexpensive, thin and light, breathe very well, and provide a surprising amount of insulation. Everybody is different, but my hands stay warm into the high 40's for 2 hours. No glove is water proof but the Crosspoint Knit do resist the rain well. The outside of the gloves soaked through, but my hands stayed bone dry after 35 minutes in steady, hard rain.
Thank you for your feedback.
2 of 5 customers found this review helpful.
zero insulation - what's the point of dry if not warm?
wear these in cold weather and hands instantly feel cold
windy and cold even worse
would love to know the use case for these gloves
none I can find
Thank you for your feedback.
Definately not waterproof!
I ride in the cold, wet Oregon winters. My old pair of knit gloves had worn out so I decided to try out these new gloves from Showers Pass. Like most other water proof gloves, these will soak thru after about an hour of hard rain. 20 minute showers off and on? They'll still soak thru, lol! The only way they are waterproof is if you use a rubber glove over the top. Then your hands become soaked with sweat.
Thank you for your feedback.
Winter-condition gloves without the bulk
I have not been able to use the gloves in super extreme conditions yet, but I really like them so far! Warm, water and windproof! They are knit, but almost feel like neoprene. So nice to have the performance without the bulk of other winter gloves! I got matching socks, too! Nice for soggy, cold, cyclocross race days!
Thank you for your feedback.
1 of 1 customers found this review helpful.
I love these gloves!
These gloves are surprisingly good. They are actually waterproof. I have done some very long and wet rides and my hands never got cold or waterlogged. The outside of the glove will get wet obviously, but if worn correctly, with the rain jacket sleeve over the glove cuff, water wont wick into the inside. The inside of the glove will get damp from sweat which cant be avoided, but they dont fill up with water like other supposed waterproof gloves. The grips on the outside of the gloves works great and despite not having any padding, they are very comfortable on long rides. The dexterity with these gloves is amazing and they are warmer than other gloves of similiar bulk. Their only downside is they dont work with touch screens unless they are a little damp and they are a little difficult take on and off easily. Also, keep them away from Velcro, it sticks to them like glue.
Thank you for your feedback.
10 of 11 customers found this review helpful.
Waterproof right up to the point when they're not
I've used these for wet weather commutes (4.5 miles one-way) and they've worked very well. My hands stay dry and warm, and the gloves dry off enough during the day that they're set for the ride home. It's because they work so well for these frequent rides that I'll hang onto them.
However, I wore them for a longer (30 mile) ride on a rainy November day in OR and it was, unfortunately, a different story. It was a ride that started in a consistent drizzle and increase to a proper hard rain. The gloves worked as I had come to expect for the first 20-30 minutes of the ride. After that, all 3 layers of the gloves became saturated and they felt like typical wet gloves. My hands didn't get cold, but it was also a warmer than average day for November. I was disappointed once I got home to find that my hands were wet and pruned and the gloves were thoroughly soaked.
I'll trust them for wet short rides or longer rides with light precipitation. For anything more than that, though, they don't live up to their billing as waterproof.
Thank you for your feedback.