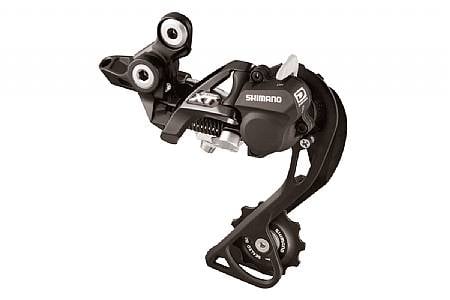 Cycling Enthusiast
Colorado Rockies
Competitive Racer
markham park florida
2 of 2 customers found this review helpful.
No more drop or skipped chains
Hint for set up Cable retaining bolt, before you tighten, I suggest just slightly pull cable taunt... Initially I was pulling to tightly,,maybe 1-2 mm and I could not find the happy zone for adjusting the high low screws...soooooo just pull cable snug and tighten bolt.
First ride I went out on purpose to throw or skip the chain and could not make that happen ( so it works )
Second ride I mistakenly forgot to engage the clutch,,,opps,,, WELL it did not matter,,,Chain tracked like a pro and accomplished what I had bought it for.
NOTE I also swapped out the triple crank and went with a single NARROWWIDE crank sprocket at the same time. Dropped 8 oz , cleaned up the cockpit and just simplified my ride.
Thank you for your feedback.
Competitive Racer
Denver, CO
2 of 3 customers found this review helpful.
The Shadow Plus RD is a rock solid product at a great price, no dropped chains all year in my group of riders
the shadow plus has been rock solid in and around the front range in Colorado (lots of technical rocky accents and descents). Have also really appreciated not having to worry about losing a chain during several technical 24hr races (24hrs Colorado springs, 24hrs in the sagehartman rocks). Have yet to drop a chain since I went with the shadow plus. Would have paid 20% more for this product, all of my riding buddies are now on the shadow plus and might even use one to propose to my girlfriend over Christmas...
Thank you for your feedback.
Cycling Enthusiast
San Francisco, CA
2 of 2 customers found this review helpful.
Stops dropped chain and slap!
Running the GS version on a 1x10 (11-36T CS-M77 and a 32T RaceFace NarrowWide) and with the CN-HG94 chain sized by 2 full links and shifts are butter smooth even under load and no chain slap or drops going throughout the entire range. Great derailleur and kudos to Wester Bike Works for stocking it!
Thank you for your feedback.