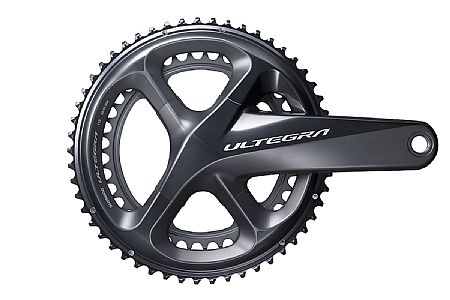 Competitive Racer
Maryland
Reliable and affordable
I bought this to replace a SRAM Force crankset and noticed an immediate improvement in front shifting. The crankset was easy to install (like all Hollowtech models), and plays well with an otherwise all-SRAM drivetrain. Mid-compact gearing (52T36T) is perfect for the terrain I ride, though I prefer 52T38T and wish Shimano made this option more readily available from U.S. vendors. BTD's pricing was great as always, especially for a new product line that just rolled out a few months ago.
Thank you for your feedback.
Workhorse!
Maybe a tiny bit less stiff than Dura Ace . But so solid, smooths and ready to go. Snappy in acceleration and spins for days. I am sure that if you are looking to find the difference between this and dura ace you will find it . but you have to really look for it.
Thank you for your feedback.
Excellent cross and climbing.
Pretty sweet crankset if you race cyclocross. This is my second crankset of this size, I put it on a road bike that I built for my coming tour that involves a lot of climbing. Shimano only made this teeth count combination for Ultegra, but the rest of the group is DuraAce. So far, it perform exceptionally, crisp gear switching and lightweight. The new version (R8000) is good looking too.
Thank you for your feedback.