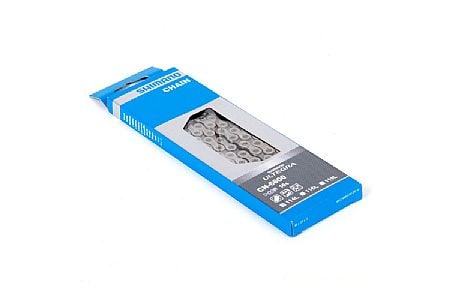 Cycling Enthusiast
Vancouver, WA
4 of 4 customers found this review helpful.
Excellent chain for a triple - use instead of CN-6701
Excellent chain for a triple crank. Has lateral flexibility and shifts well. It is the same as the Dura Ace chain for triples which was discontinued - apparently the only difference is that the 6600 is less expensive. My equivalent Dura Ace chain lasted 2500 miles to the point of 116 in. wear over 12 links. I am a heavystrong rider.
Note do not use the CN-6701 for a triple. It is laterally stiff and will wear the top two cogs of the cassette out in only a few thousand miles. It will also not shift as well on a triple due to it's stiffness.
Thank you for your feedback.
Cycling Enthusiast
Fla. Montreal
Cycling Enthusiast
Sacramento
Shimano Chains a Great Value
This chain is a great value. I've spent a lot more on high-end chains (Wipperman), but I get almost as much mileage, and better shift quality, using Shimano chains on Shimano drivetrains. I prefer to use the recommended CN-7801 chain on my triple, but it often isn't in stock, so I use this CN-6600 as an alternative. Honestly, I can't tell the difference. They both work great. I can typically get 4K-6K miles on this chain with regular lubrication and monitoring for chain stretch.
Thank you for your feedback.
Cycling Enthusiast
Mill Creek, WA