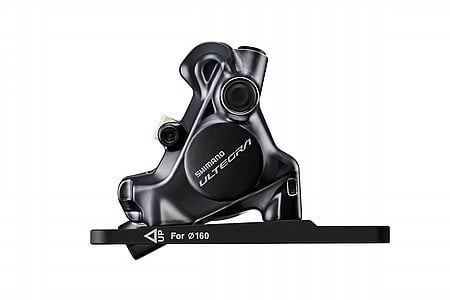 Cycling Enthusiast
SE Texas
Replacement for BR-R8070 Caliper
Shimano's compatibility chart shows this to work for the previous generation Ultegra 8070 braking system without having to replace the shift levers. My 8070 rear caliper coating was corroded and looked terrible. It stilled functioned properly. However, the new 8170's slightly wider gap seemed appealing. I had to nip off a couple of the mounting bolts so they didn't bottom out before fully tightening. After bleeding a couple of times, the rear brake works well. Since the caliper comes with a new set of pads, I figured the final cost of the caliper alone was what I paid minus the cost of a set of replacement pads, or about $50 after buying it on sale.
Thank you for your feedback.
Excellent updates more clearance for rotor, bleeding made easy.
Had to upgrade my calipers due to the 12speed di2 upgrade and concern with compatibility of the older calipers and the new shifter/brake levers. The new design has made this a worthwhile upgrade. The additional clearance for the rotors is a welcome change alone almost entirely ending that rotor rub issue some folks experience that requires periodic readjustment of the rotors and brake pads. Bleeding the brakes has never been easier.
Thank you for your feedback.
Cycling Enthusiast
Denver, CO
Better Brakes for Mountain Living
These brakes were a great deal for anyone willing to do their own maintenance and etc. Cheaper than the set that comes with the hose preinstalled. The shipping was fast my only negative is I wish the instructions provided by the manufacturer in the box were better.
Thank you for your feedback.