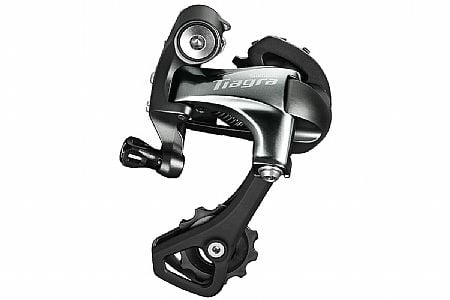 Cycling Enthusiast
Salem, OR
Competitive Racer
Portland, OR
2 of 2 customers found this review helpful.
Great value, looks good and functions really well!
10 Speed Ultegra is getting hard to find, so I bought this to replace an older Ultegra derailleur that was damaged when a chain broke on our tandem. Using the same Ultegra 6700 shifters, I think this newer Tiagra kit works even better than the old 6700 derailleur ever did! This might not be the solution you are looking for if you are a road racer weight weenie looking for those marginal gains, but I wouldn't hesitate to put it on any touring, commuter, or cyclocross bike!
Thank you for your feedback.
Cycling Enthusiast
Salem, Oregon
The Shimano Tiagra Rear Derailleur works as intended.
The derailleur works fine and was in good condition out of the box. The hardest part of the job was installing a new shifter cable in the handlebar assembly ! Now I know how it's done !
Thank you for your feedback.