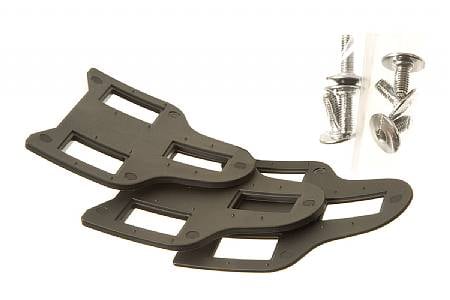 Competitive Racer
Maryland
1 of 1 customers found this review helpful.
Shimano shims for Shimano cleats
If you use shims on your road shoes and use Shimano cleats, you'll need this product. Instructions are helpful, so pay attention to shim thickness and cleat bolt length, the set includes longer bolts, which you'll need for stacking your shims above 1mm.
Thank you for your feedback.
Cycling Enthusiast
Malvern, PA
Great product
I have tried a number of lifts to correct a leg length discrepancy, but they were all designed to work with multiple pedal types. As a result they never worked really well with my Shimano cleats. These spacers are designed to work with the Shimano SPD SL cleats so they work very well. And the price is right!
One caveat though. I needed a full centimeter of lift (two sets worth) so I had to locate my own mounting screws.
Thank you for your feedback.
Competitive Racer
Campbell, CA
1 of 1 customers found this review helpful.
Great option if you need some spacing!
The product worked like a charm. Good solid materials, stacked nicely. It didnt slip when I really cranked down on the bolts for the cleat. Highly reccomend this if you need to level out your leg descrepencies.
Thank you for your feedback.
Cycling Enthusiast
New EnglandMidwest
3 of 4 customers found this review helpful.
Better than Shimano compatible
I split my time between two cities so I have bikes and shoes in each one, and since my right leg was recently found to be shorter than my left I needed to shim two pairs of shoes. As it happened I used these Shimano shims on one pair and a compatible brand on the other. The Shimano shims are more expensive but, I think, quite a bit easier to install properly. Shimano cleats have very small nubs on the side that face the sole of the shoe. These probably dig into the sole a bit when the bolts are tightened and help keep th cleats in place. The Shimano shims have matching pits on their upper surfaces and theyre curved to match the curvature of the cleats. What this means is that the shims mate to the cleats and move with them as you move them around getting everything properly aligned. The compatible cleats move on their own and they can protrude enough to make it hard to clip in, so you want the cleats edges of the cleats and shims to align. Its a smallish thing I guess, but using the Shimano shims saves time and makes it easier to get everything lined up so clipping in and out works smoothly. Thats worth a few bucks.
Thank you for your feedback.
Cycling Enthusiast
Bonney Lake WA
1 of 1 customers found this review helpful.
If you need them, they are terrific
Years ago a doctor told me that my left leg was slightly longer than my right. I never really noticed that this could be a problem until I changed saddles from an SMP Glider to a Specialized S-Works Power. The Power being a flat saddle allowed me to slide over to the right side in order to compensate for the leg length difference. something that was not as easy to do on a ridged saddle like the SMP. I experimented with the shims starting at 3 MM and finally ended up with 6MM of shims under my right cleat. With these in place I sat squarely on the saddle, and it proved to be the most comfortable saddle I had ever ridden. These were well worth the price as they corrected a long extant problem. With things evened out, it was far easier to find a correct saddle height as well.. I should note that these are designed to work with Shimano road cleats only.
Thank you for your feedback.
Cycling Enthusiast
Bay Area
Casual Cyclist
St Louis, MO
Cycling Enthusiast
Midwest
One leg longer than the other? You need these!
Use these to balance your leg length while using Shimano road pedals and cleats. Install the correct thickness between your shoe and cleat with the included longer screws and you will be smiling again.
Thank you for your feedback.