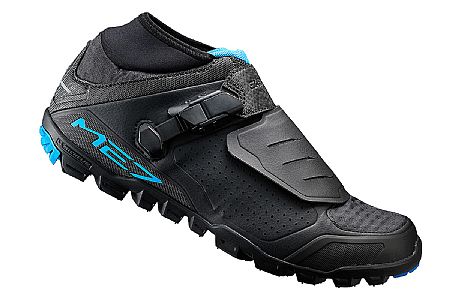 Cycling Enthusiast
Calumet, MI
1 of 1 customers found this review helpful.
comfortable from hour 1
Much more confident on rock when having to hike a bike with these that previous shoes I have used. Only took about 2 hours to be comfortable. I usually wear a 43, the 44 shimano's fit very well. Sole is not super stiff but seems to give me good transfer of power to the pedals. Feel almost as light as my old carbon shimano shoes (from the 90s) I'm hoping these will last as long. Be patient learning to get in and out. Once you figure it out it makes sense and is easy to operate. Tried to lift the latch for the strap and would have broke it if I forced it. Push down and it slips out easily.
Thank you for your feedback.
Competitive Racer
Portland, OR
2 of 2 customers found this review helpful.
Excellent shoe. The best one I''ve tried for mountain biking.
These fit better than any other shoe I have tried (Specialized Pro, Specialized Comp, Giro Terraduro), pedal as good as the others mentioned, and are very comfortable for walking with ample traction. They are also very light, which probably makes a difference with 1000's of crank rotations during a ride. They are the first mountain bike shoe I have had that doesn't slip in the heel. All good.
Thank you for your feedback.
0 of 1 customers found this review helpful.
These shoes are sweet!!!
Cant say enough about my ME7's , light weight,comfortable, very good for off bike walking especially on those hike-a-bike, steep, gnarly trails. Only complaint is the toe area because water easily gets inside. But if you ride in mostly dry conditions they are perfect for hot days. And can't beat the price from western anywhere!!!!!
Thank you for your feedback.