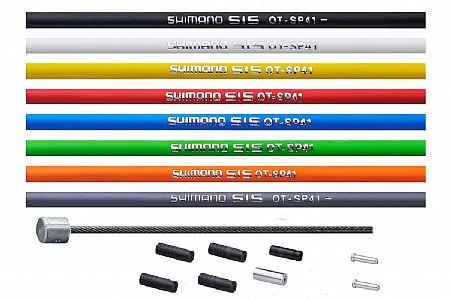 Cycling Enthusiast
Portland, OR
Cycling Enthusiast
Vancouver Wash.
2 of 2 customers found this review helpful.
Excellent brand slick coated cables.Positive feel,last longer.Great performance minded cables.Slick..
Like these cables for that dream bike and want optimum shifting feel.Lasts couple years or more.Great performance packet of shift cables.No moisture can rust em,weakin the function.Housing is top drawer.
Thank you for your feedback.
0 of 1 customers found this review helpful.
Evolution of bike shopping
I just love some of the changes we are seeing in the bike industry and many other industries. Namely online shopping. This genuine product got to me in the perfect condition and at a timely manner. But thats not the best part.. the best part is that price and selection on these bike parts are not beatable by the local bike shops. I used to worry about the time it takes for shipping and whether im getting genuine products or fake ones, well, all those worries are a thing of the past because the companies themselves are producing these products with internal security features against fraud and now they are coming to us at a low cost which makes it pointless to produce fakes..
Thank you for your feedback.