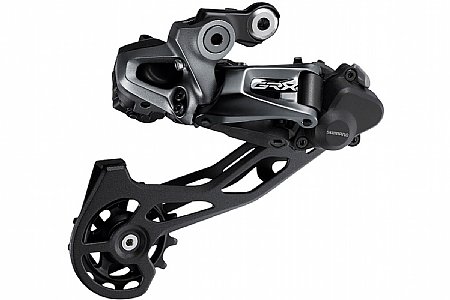 Cycling Enthusiast
New Jersey
2 of 2 customers found this review helpful.
Shimano continues to NOT disappoint!
I was really torn between going with SRAM Force eTap and Shimano GRX Di2.
I currently use Ultegra Di2 on a road bike and it has almost never failed me. On the rare occasion that it has, it was due to a jockey wheel needing to be replaced or an alignment issue. Shimano really paved the way for electronic shifting and they haven't skipped a beat with GRX. I ultimately decided to go with Shimano because of my experience with Ultegra. I really liked the idea of having one battery to charge and in terms of battery life I have never had an issue with running out of battery while on the road. I realize this is just down to an individual remembering to charge the battery, but I really only find myself charging the battery maybe once every month. I figured that if I really was doing a backcountry ride where I was going to blow through a 1500-2000 mile battery without the ability to recharge, then at that point I can always carry a spare battery. While it's not as easy to swap out batteries compared to SRAM, with it stored in the seatpost it wouldn't be a situation that I couldn't do it.
Another reason I went with Shimano is due to replacement costs. Derailleurs, if needed to be replaced, are simply just cheaper.
I will have to say that getting all the Shimano parts was a PAIN IN THE ASS! This is largely due to supply chain disruptions around COVID, however Bike Tires Direct was solid in being able to get most of them. I welcome BTD to reach out to me with any questions around my experience (good/bad/neutral) - I'm def excited to look their way for future needs. Inventory and customer service are amazing in my experience.
Install:
One of the things I really liked about SRAM was the setup. Basically wire-free. However, I figured that this is a one-time deal and considering I'm not traveling too much with my bike I viewed this really as a set it and forget deal. I'm also very confident in my mechanic's ability to set up Shimano and so I didn't want to base my decision on this.
Thank you for your feedback.