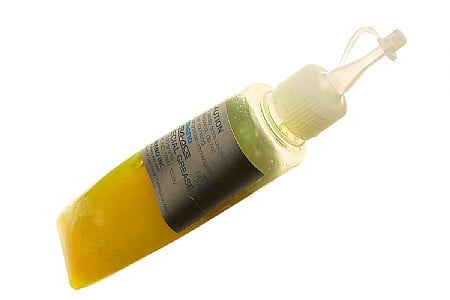 by
Joe King
(BikeTiresDirect.com Staff)
Competitive Racer
Portland, OR
12 of 18 customers found this review helpful.
The 'Classics' Mystery Lube!!!!
A mysterious thick, green chain grease has appeared on Shimano sponsored pro bikes when the weather turns for the worse. There has been much speculation as to what this greaselube is. Team mechanics typically say it's just something Shimano gives them for rainy racing. Shimano was silent about it, as usual.
And then this appeared, the holy grail of keeping a chain running smoothly for long rides in the worst weather.
This is serious stuff. Much MUCH thicker than any other chain lube available. This is the kind of stuff cranky old European mechanics use diesel fuel to clean off after each ride.
Thank you for your feedback.
Love it!
Love this grease for hubs, Crankset, bottom bracket, headset, . Clean and smooth and the tube makes it easy to get it where you want it. I have used the Phil green tube for years and it's awesome too. Glad I came across this and will continue to use it.
Thank you for your feedback.
Cycling Enthusiast
san diego ca
similar to splippery spitt?
similar to the thick, green 'slippery spitt' by shimano's workshop. still have some of that, but can't find it anymore. i believe it is a transparent, semi-synthetic liquid lube made for chains and cogs. can also be used to thin automotive semi-synthetic greases (for use on finer surfacestolerances).
Thank you for your feedback.
Cycling Enthusiast
wine country
Cycling Enthusiast
Ontario Canada