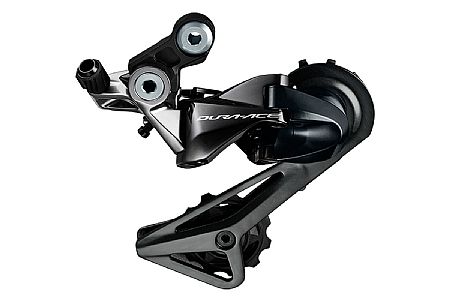 Cycling Enthusiast
Grass Valley, CA
The design improvements reflect Shimano's high regard to provide seamless shifting.
I use this on a Cannondale SuperSix High Mod that was originally equipped with a Dura Ace 9000 rear derailleur. While the DA 9000 shifting was excellent, it was a short-cage derailleur, and I wanted to switch to an 11-30 cassette. I am now 71 years of age and I still regularly climb gradients that can easily exceed 10%. The Dura Ace R9100 coupled with an Ultegra 11-30 cassette has not only made for quieter shifting, but it has made it just a little bit easier to climb the most challenging hills around my neighborhood. I also like the shadow design, and, even though I purchased B-Stock at a nice discount, there were no flaws in the derailleur whatsoever. I am very happy with this purchase.
Thank you for your feedback.
Cycling Enthusiast
Seal Beach, Ca
Superb function. Gorgeous to look at.
I'm an older, semi-fast recreational road rider with over 30 years experience with top of the line group sets. These include Campy, Shimano and even Suntour. I had a full Dura Ace 7900 group on my Litespeed Archon T1 and the shifting was dialed. In fact everything worked so damn well. But then I decided to do an upgrade to a Dura Ace 9100 mechanical group, mostly because I just dig the hell out of the way it looks. After I installed, adjusted and rode the new set up, I was just amazed that the front and rear shifting was far better than the 7900 group. Another thing that I'll have to wait to verify, but the drivetrain is silent. I haven't had much riding time on it, maybe 150 miles and haven't lubed the Dura Ace chain yet. It still has the packing grease. I'll see what it sounds like when I lube it.
The reason I only gave 4 stars for value is that I'm pretty sure Ultegra would function just as well, but at 12 the price. The glossy finish on the Dura Ace makes me swoon.
Thank you for your feedback.
Cycling Enthusiast
Arizona
Excellent derailleur, excellent service
Replaced broken derailleur, my fault. New unit is exception. Clean sharp shifts and very smooth operation in every way. Simply the best. Shimano is proud of their product and price is always on the high side. Great deal with BTD and ordering and shipping is esy and swift. Plus points adds to the value.
Thank you for your feedback.