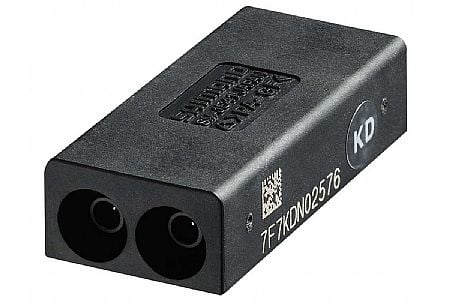 User submitted reviews
Review by John42

Cycling Enthusiast

Vancouver, WA

Junction Box

Shimano Di2 SM-JC40/41 Rear Junction Box, connects WIRES from components, such as :the Rear Derailleur, front Derailleur, a line to the battery & wireless, and another line to the shifters...I recommend a Di2 frame

Thank you for your feedback.
Review by Anonymous

Needed in building up a madone disk frame

Shimano wiring. You need this stuff....just what it is.

Thank you for your feedback.
Review by Anonymous

Cycling Enthusiast

Dover Plains, NY

2 of 3 customers found this review helpful.

Di2 is wonderful -BUT!

Have been riding Di2 Ultergra for over 6000 miles and just love it. Never a malfunction or a problem-UNTIL there was a complete FAILURE! Shimano has designed and engineered this system very well but this internal junction box can and has come unplugged! Hence complete failure of system. In order to fix have to pull the bottom bracket. I was lucky to be in an area where there was a LBS that knew what to do and could do it on short notice. Also had a private SAG close by.

This is a very poor design- these connections should be twist lock or some other method so that is failure cannot happen. I am having LBS pull the BB and secure the connections with electric tape.

Thank you for your feedback.