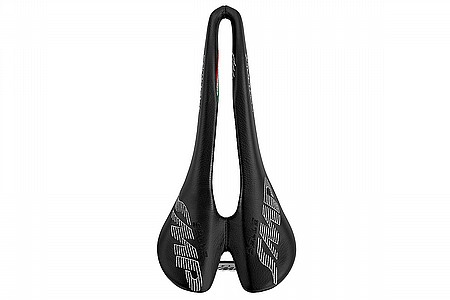 Love this seat
i have been using this saddle for about 15 year now on my road bike and i absolutely love it. I recently got a gravel bike and didn't like the seat it came with. So naturally i stuck with what i know. And, i am glad i did. This saddle is just as comfortable on my gravel bike as it is on my road bike. I highly recommend it.
Thank you for your feedback.
Cycling Enthusiast
Phoenix, AZ
Cycling Enthusiast
Austin TX
3 of 3 customers found this review helpful.
a must if you have any discomfort after you ride
I was noticing a funny feeling when I urinate I've been riding 5k milesyear for the last 10 years. I finally realized it could be my seat that had a minimal central depression. That funny feeling is slowly fading. I've had this new seat for 2 months.
My only complaint is that it seems to be a bit noisier than my old seat with more frequent creaks & such.
Thank you for your feedback.
Cycling Enthusiast
Atlanta
9 of 9 customers found this review helpful.
Will cure what ails you
I rode my first Ironman on a Fizik Arione Tri, just like a majority of other participants, and didn't think too much about my saddle because I had become accustomed to the numb-*** after rides of 75 miles or above. I took two weeks off after the race, then got on the tri bike for a 20 minute ride. I couldn't stay in the drops for more than 5 minutes...my crotch was killing me! It was then that I realized I had built a tremendous tolerance to the pain delivered by a flat saddle, even one thought of as 'comfy' like the Arione, and still wonder about what kind of scar tissue is building up on rides like that. I did an internet search, and took a gamble with the SMP Composit(this was 2007). About a week later, I rode about 60 miles on it with only a very slight adjustment period to the 'hardness' of the saddle(this model has no no cushion at all, I weigh 180lbs). I am 100% converted. The cradle-shape creates a lot more contact area, which significantly reduces pressure, and the weight is supported on the pelvis rather than soft-tissue. The only down side that I see is that a rider can't slide back and forth, which some people like to do on long tri. The upside is no numb ****, and no foot cramps on long rides, which I attribute to the saddle allowing the vascular system to flow freely. 4 stars on value, because, come on, $240 is a lot for a saddle, even if it works. In any case, I have this model on 3 bikes now.
Thank you for your feedback.
Cycling Enthusiast
Wallingford,ct
1 of 1 customers found this review helpful.
Finally the one
Finally found the one. Tried the fizik saddles - Antares,aliante, arione with and without channels ..so far done 2 centuries without numbness and never felt comfortable Until I used this one!!!
Thank you for your feedback.