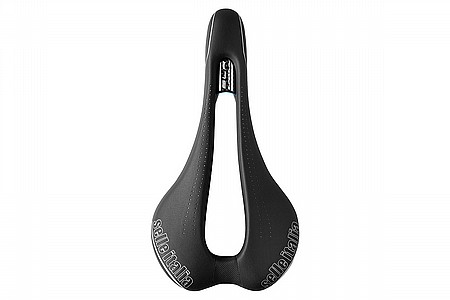 Cycling Enthusiast
Stuart FL
1 of 3 customers found this review helpful.
I am impressed!
I am impressed with this, at the price plus the points discount. It's light, very comfortable, elegant, etc. It should be, at its retail price. It's very comfortable on long rides. I've only had it installed for one really long test ride to date. It's the second Selle Itallia saddle I've owned, used. I'm 6'2 and 210 lb. Carbon fibre, Italian leather and titanium are the materials you normally associate with Italian supercars. Know the dimensions and buy at a price. My overall rating is at 4 stars because I haven't ridden it enough yet
Thank you for your feedback.
Cycling Enthusiast
Seattle, WA
19 of 19 customers found this review helpful.
Feeling Numb? There is hope!!!!
I bought this saddle to replace the Fizik Anatares I previously had. Don't get me wrong, the Fizik was a great looking and low-weight seat, but I then started to have problems... Down there, if you know what I mean... I figured the numbness was just apart of cycling, so I just dealt with it. Little did I know that my broad seat was causing pressure on my perineum area resulting in the numbness. Turns out this numbness can lead to erectile dysfunction, which at 25 I do not need (may be TMI, but hey, its the truth.
A little research found that this a common problem among cyclist, and there are many saddles made to fight this. I decided to go with the SLR Superflow because of the relatively low weight and profile. Upon receipt of the product (which was promptly shipping by Bike Tires Direct) I was amazed on how big the cut-out actually was... Its massive! It took no time at all to get use to the saddle and I must say that I immediately noticed a difference. I've been riding with this saddle for a couple months now and I can gladly say that the numbness is gone and I am back to my former self.
This saddle combines expert craftsmanship from Selle Italia while providing ample comfort and relief from perineum pressure. I have nothing but praise for this seat, and I highly recommend it if you are facing this problem yourself.
Cheers
Thank you for your feedback.
Cycling Enthusiast
Oregon City OR
4 of 4 customers found this review helpful.
Solves numbness and pain issues
I bought the SLR Superflow to try and address numbness issues that I was having with my Fizik saddle, mainly on longer grinding climbs. I'm a larger rider at 6'1 and 215 lbs and have never used a saddle with a cut out, so I thought I'd give this one a try. I've now put a few hundred miles on this saddle and so far I can say that it's virtually solved all of my numbness and pain issues. On first look, the SLR was a bit harder than what I was used to, and initially I thought that this might be a problem for me on longer rides. But I've found that this saddle actually feels more comfortable the longer I stay on it- making it great for the events I do like Cycle Oregon, STP etc. It's also pretty flat which I thought could cause a problem (since that's also different than what I'm used to) but it isn't at all. It's quite easy to move around on and find that comfort spot as the road changes. So now I can pretty much climb, and hammer away all day long pain free and without numbness in the nether regions. It's quite nice looking to boot and lightened up my bike a bit-(mine came in at 190 gms 5 less than advertised) which are all added pluses. Saddles are so personal and none of them are going to be couches for anyone. But if you're experiencing numbness or pain like I was, I would definitely give this saddle a try-it could be just what you need to solve the problem.
Thank you for your feedback.
Cycling Enthusiast
Glendale CA
Easy to install and crazy comfortable
Been riding for 30 years...ride about 8000 milesyear. This is a super comfortable saddle - yet stiff - which is a great combination. Easy to install...pads just thick enough to protect but not so much to influence power in seated spinning. Nose length ideal for bike control.
Thank you for your feedback.
Carried me through a double century
I bought this as a spare because it was on sale and I love the one on my bike so much. I did the Selle Italia saddle fit process at a bike shop so I'm an L3 and this saddle works great for me. Paired with a good set of bibs, it doesn't seem to get any better than this for me.
Thank you for your feedback.
8 of 10 customers found this review helpful.
Great great saddle, super smooth and comfortabl on long rides.
I had issues with discomfort in the nether regions and this saddle solved it. Not to mention, it looks like it was made to go in an Italian sports car. Very nice! The extra wide cut out is what I think makes this saddle work. The difference is noticeable right away. Get one!
Thank you for your feedback.
Good quality and takes pressure off
I hadnt thought much about the saddle that came with my bike. I think it may have been contributing to gradual nerve numbing down in that area I sit. I think I might be regaining nerve sensitivity while the saddle has been perfectly comfortable. That large opening and a slight nose-down angle takes the contact pressure off.
Thank you for your feedback.
Cycling Enthusiast
Reno, NV
Great saddle so far so good.
I have a 2017 giant trance pulled off the stock saddle wasn't real happy with it wasn't terrible just wasn't that comfortable. This saddle is more comfortable I like the open Channel it gives you a relief. The saddle was a bit pricey but you get what you pay for I don't regret my purchase at all.
Thank you for your feedback.
Cycling Enthusiast
Westminster, CO
Delivers what it promises
I installed this saddle on my Giant Defy 5. I've ridden as much as 55 miles at a time on this saddle. I like the light weight and stiffness, and the huge cutout definitely helps relieve pressure underneath. My first two rides on this saddle were uncomfortable and caused some significant chafing, but when I moved the saddle forward it alleviated those problems. I have yet to find a saddle that's truly comfortable, but I'm happy with this one!
Thank you for your feedback.
1 of 2 customers found this review helpful.
No pressure
I have struggled to find a saddle. I did RAGBRAI 2 years ago and ended up with perineal paresthesia. In other words, my lady parts went numb. This took months to resolve. I tried a Cobb split seat but still struggled along with sciatic nerve pain. I took this saddle for its first ride today for 26 miles. The wide cut out resulted in absolutely no pressure. My sit bones are sore but I know this resolves as I have only riden three times this year( mostly because of the dreaded discomfort). I have a 320 mile ride in 2 weeks over 4 days. Excited for the ride with this new saddle. It is a firm saddle but the padded ones don't work for me either.
Thank you for your feedback.
13 of 14 customers found this review helpful.
Performs as designed!!!
I am 5' 10 200 lbs. This saddle delivers as the product info states. 145 mm with is still very light, supportive and comfortable even on the longer rides I have done. It is an investment! but a good one!
Thank you for your feedback.
Cycling Enthusiast
NE. Ohio
14 of 15 customers found this review helpful.
Awesome!
I have this saddle on two bikes. I am a clyde and finding a light saddle that is also comfortable has been a challenge. This saddle is absolutely wonderful. Just did a 50 mile ride on Sunday and did not even thing about my seat.
Thank you for your feedback.