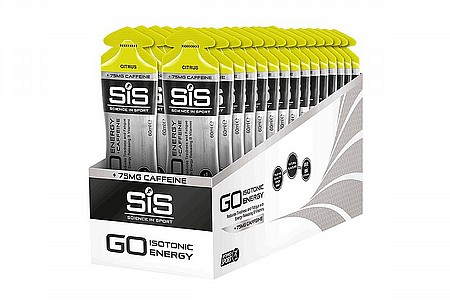 User submitted reviews
Review by bumpermeat

Cycling Enthusiast

San Jose, CA

Good energy boost and easy on the stomach

I've been using Cliff or Gu gels for years. I tried these and I doubt I'll ever go back to other gels.

Texture: These are more liquidy than Gu or Cliff, so they're easy to swallow.

Taste: I've tried both the Double Espresso and the Citrus. Neither has an overpowering flavor, but I'll stick with the citrus. IMHO it tastes better. Also, again IMHO, these taste better than the Cliff or Gu products. The taste is not as strong.

Performance: Even with the caffeine, the "energy boost" seems to come on more slowly and last longer than Cliff or Gu.

Thank you for your feedback.
Review by Jon Tate

Daily Commuter

Nashville, TN

1 of 1 customers found this review helpful.

SiS GO Engergy Double Expresso

I like these because they are formulated so that you do not have to take in half a bottle (or more) of water in order to reap the carbohydrate absorption and prevent gut issues. I got the Double Expresso flavor with caffeine, which I think tastes pretty good. I don' t prefer overly fruity/sweet flavors in sports hydration & nutrition. The packets are just right for jersey pockets and are easily to consume one-handed. Great stuff all around.

Thank you for your feedback.
Review by Scott

Energy gel oak with extra kick

I dont always add caffeine in my exercise nutrition, but really like these in my rotation. I did not experience jitters or similar stimulant response.

Thank you for your feedback.