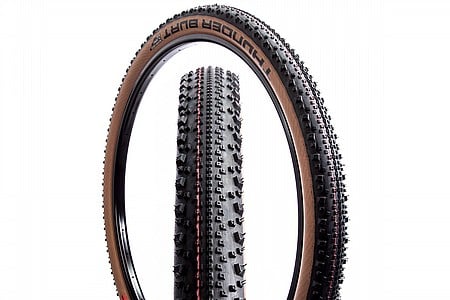 Daily Commuter
SE Washington State
4 of 4 customers found this review helpful.
Definitely think about buying this tire
I use this tire on my commuting bike, a Specialized Chisel. I installed my set (2.25 inch) about three weeks ago, and have to say I am pleased. First of all, the tires easily installed onto my Stan's Arch 29 inch rims (I think Schwalbe tires tend to mount easier than Hutchison and Continental tubeless tires). The tires hold air well, as three weeks on from install, each tire had only lost a few psi from the original inflation when I checked today (I use Orange Seal, bought from BTD on sale, of course!).
I will agree that these tires are fast. The reason I bought these tires is that I cannot find Hutchinson Black Mambas anymore. Both the Burts and Mambas have low profile tread on the tire center (with the Burts having a slightly higher profile tread), but the Burts are definitely faster. Time will tell on durability, but my experience with Schwalbe tires is that durability, while good, is not outstanding.
Thank you for your feedback.