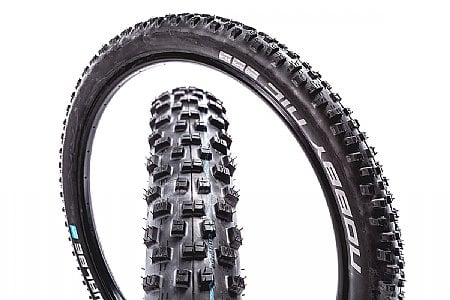 Cycling Enthusiast
San Diego
As per Shwalbe's intent, it is a nice all-rounder,
I put the 2.6 on the front of a Santa Cruz Super-light with a fox float 34 to give it a little more impact absorption up front vs the original Fox float 32 with a 2.25 Nobby Nic. Using a 2.35 Nobby Nic on back on Stan's Flow 3 wheels at both ends. About 12 pound weight gain with the 34mm fork and 2.6 tire but a lot easier on my old wrists when I get in the rough stuff. Barely noticeable slower roll speed on flats but noticeably more front end traction on fast descents. Definitely worth the trade off for me, as I am 74 and un-planned dismounts are not as much fun as back in the day. The extra rotating weight is noticeable on long climbs, but since I am not racing any more I have just learned patience. Look at the scenery while climbing. Way faster and less drag than my Hans Damf winter tires and on dry gravelsandy track, which is most of San Diego, the traction is about the same.
Thank you for your feedback.
Cycling Enthusiast
Phoenix, AZ
Durability is an issue with this tire
I have always run Maxxis DHF DHR combos in AZ without any problems but went looking for something a little faster rolling. I bought a nobby nic for the rear and a hans dampf for the front. I destroyed both in a handful of rides. The nobby nic passed away on the Whole Enchilada in Moab and the Hans Dampf gave up the ghost a bit later in the Superstition Mountains. Both suffered massive failures from rock punctures that went straight through the tread area (not sidewall). If you are a heavy rider and typically ride in rocky terrain I'd get something more durable. I'm 205 lbs. and I wound up spending $ on tires in about a month. I'm back to running a DHF in the front and I bought a Recon for the rear. So far that is a good combo. The Schwalbe's rode well and the traction was good, but they are not durable enough to justify the cost.
Thank you for your feedback.
3 of 3 customers found this review helpful.
Game Changer for Trail Riders
Just switched from Maxis Minion DHF 2.5 to NN 2.6 (29er). What a difference on the climbs and just as sure footed on the decent. The main difference here is the weight and improved rolling resistance - WOW! Cannot believe what a difference there is. My first time descending and broke a record.
The Minion DHF is an awesome tire and cannot say enough good things - but if you are looking for something more geared to up and down without the sacrifice on the down this is the tire - period.
I ride hard packed with loose rock and rock garden terrain (Denver Front Range)
Thank you for your feedback.
1 of 1 customers found this review helpful.
Okay but not great
I'm currently running the NN 29 x 2.6 both front and rear. I like it a lot as a rear tire but I really dislike it as a front tire. I find the front drifting frequently and even losing traction completely on terrain where most tires would be holding tight. I might pair a rear NN with a Hans Dampf or Magic Mary up front. I'll need to experiment a bit. Regardless, I wouldn't run a NN as a front tire.
Thank you for your feedback.