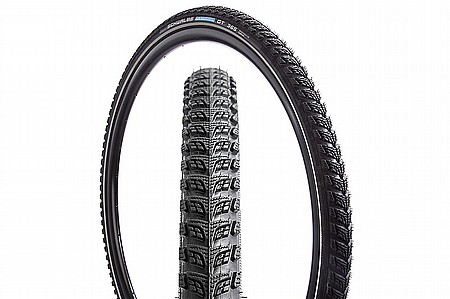 Daily Commuter
Philadelphia, PA
Great grip on and off road, handles light gravel well, wet conditions no problem
I got these some months ago for a mountain bike that I take on light trails with gravel and some mud and also on roads with many hazards like nails, glass etc. They have very good traction, dry or wet- and they seem very durable versus the types of hazards tires face in a city with lots of construction all the time.
They are not the fastest tires, but I am going through tough terrain sometimes, so speed is not what I was trying to get.
Thank you for your feedback.
Difficult to mount, tread separating
I bought these for winter tires and only used them as such. They show very little wear. They look nice and hold the road well.
One of the tires is imbalanced and it can be felt.
EXTREMELY difficult to mount. The lugs on the tread are cracking away from the outer ply. This is bad. And why are they listed as 700x45 when they are 700x47?
I expected more from Schwalbe.
Thank you for your feedback.
Daily Commuter
Hammond, IN
2 of 2 customers found this review helpful.
Wonderful Winter Weather Wheels
I use my bicycle to commute to work year round and the regular Schwalbe Marathon 26 x 1.75's do not feel steady on snowslushy pavement. I've been riding Schwalbes for years but not during the winter. So instead of some other brand knobbies, this winter I bought the GT 365's. Love 'em. Enough knob for good grip, but not too much that would cause noise rolling resistance. Highly recommend. And if they wear like there fair weather cousins, I'll be riding these for many winters to come.
Thank you for your feedback.