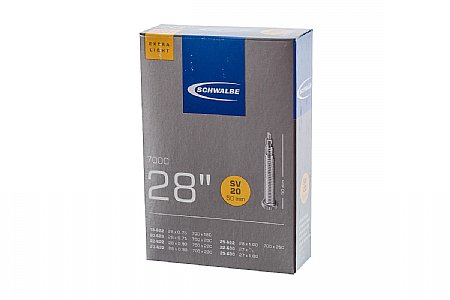 Competitive Racer
Piedmont North Carolina
excellent quality and holds air for days
Use this tube both as a rear tire for my road racing recumbent, and to help with tubeless installation. For tubeless installation I first install a tubeless ready tire with this tube, inflate and go for a short ride to properly seal the rim tape. Then I take out the tube, install a valve, reseat the tire and add sealant
Thank you for your feedback.
Competitive Racer
Houston, Texas
Cycling Enthusiast
Marin CA
Tube failed where stem connects to tube
After a couple hundred miles 100 psi is a Schwalbe tire the saddle whee the stem connects to the rest of the tube separated. Disappointing for me as I just changed over from another brand to Schwalbe.
Thank you for your feedback.
4 of 4 customers found this review helpful.
Light and durable
These tubes are very light and durable. They hold up as well as any on the market and hold air better than most for such a thin tube. Have used them for two years and happy with their performance. One more plus, they have dark valve stems and look great with black carbon rims!
Thank you for your feedback.