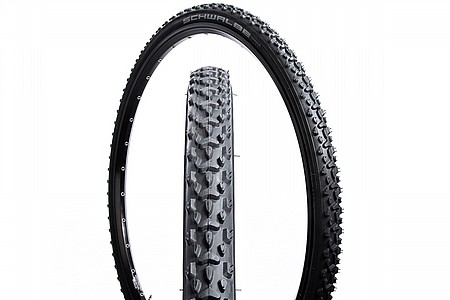 Cycling Enthusiast
Hawaii Nei
11 of 14 customers found this review helpful.
Light, skinny and soft.
Bought this tire about a month ago, during a promo sale, to go on my kilo. The tires barely fit brakeless on stock rims (the tire hairs touch the fork). I've seen them online measured at about 27mm. The tires are of a soft compound, which is to be expected considering it is a CX tire. Not too bad in the rain on pavement, and awesome in the dirt. I will be buying these again just because they fit, kinda, and they look awesome. I would post a picture but I can't.
Thank you for your feedback.
Daily Commuter
Northern NJ
1 of 1 customers found this review helpful.
Solid.
My 1994 Gary Fisher rigid, steel mtb passed away in the Fall of 2017 due to complications of a rusted out frame. The Gary Fisher was my Northeastern year-round, all-weather bike for commuting backforth to work. Instead of buying a new mtb, I decided to mount a pair of Schwalbe CX Pro tires on my SURLY Pacer road bike. Well, I got news for you sir. There isn't much that the SURLYCX Pro can't handle. I now ride onthru snow, ice, rock salt, gravel, dirt, and tarmac with full confidence. These tires are solid, relatively fast, and provide loads of traction considering they are only 30 mm. Best buy in a long time.
Thank you for your feedback.