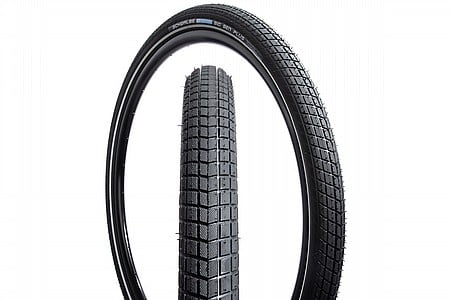 User submitted reviews
Review by Anonymous

Cycling Enthusiast

South Florida

1 of 2 customers found this review helpful.

Great ebike tire

I use this tire on a 1500W Bafang BBSHD 30+mph Ebike. I upgraded to this from the Scwalbe Big Apple Plus. They were usually out of stock here, so I ordered mine from Europe. The thicker tread keeps smaller pieces of glass away from the tire casing. No flats on these yet. I had a few on the similar BA+. The tread is very grippy at high speed on the traffic circles. Traction in dirt is much better also. Rated for 50kph speeds. Much better than Maxxis Hookworms

I would suggest washing the tires with dish soap before riding on them. The mold release compound is pretty slick until worn away. Nothing specific to these tires, just a good idea to do this.

Thank you for your feedback.
Review by Drwhite

Great tires

Turns heads with the reflective strip at night. Great tires good traction balloon shape helps with shock absorption. Little expensive but worth it.

Thank you for your feedback.