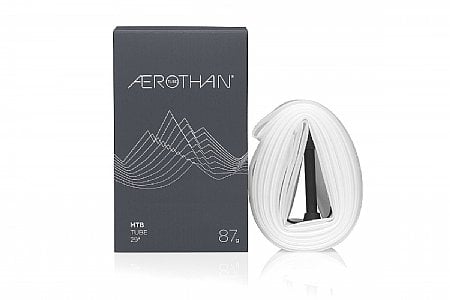 2 of 2 customers found this review helpful.
Stay Away
Bought 6 tubes for 2 bikes. None are now useable as the Schwalbe patch kits due not work in hot conditions. Cooler conditions, everything seemed good, but when the weather got hot the patches failed. The patch developed a spider web series of air channels that leaked air. Several very carefully applied patches all failed and so did the new Park super glue patches. Vulcanizing patches not recommended by Schwalbe. My earlier review before punctures now cancelled. Shame on Schwalbe, obviously released when not properly tested.
Thank you for your feedback.
1 of 3 customers found this review helpful.
Top Notch Tubes
I'm old fashioned and still prefer to run tubes. I've tried the messy tubeless stuff and it judt didn't work for me, always having to add sealer when it dried up and they never seem to hokd air. So back to tubes I went. I've been using the Maxxis Ultralight tubes and they were just okay. They weigh around 157 grams fir the small 29" tubes. They've worked well but also seem to lose air rather quickly. I decided to try a set of the Schawlbe AEROTHAN tubes and couldn't be more impressed!!! I run the smaller 29" ones and all have weighted in at around 90 to 97 grams, which is a great weight savings over my ultralight Maxxis tubes. After I installed the AEROTHAN tube I aired them uo and have noticed that they hold air better than anything I've ever used. They are on the expensive side fir tubes, but from what I've got out of them, they are worth ever penny!! I know have sets in both my mountain bikes and a few extra for spares.
Thank you for your feedback.
Daily Commuter
Nashville, TN
6 of 7 customers found this review helpful.
Aerothan tubes
I was so excited to try out the Schwalbe Aerothan tubes after reading about them and watching the information on them available on the Schwalbe website. That excitement deflated as quickly as both of these tubes - that is within minutes. I cannot, repeat, cannot recommend these. I am no novice at tubes/tires and I carefully followed the instructions, but these tubes won't hold air. It is just as ridiculously simple and ridiculously expensive as that.
Thank you for your feedback.
Seem to be a little bit small for a 29"tube
I had to really work these tubes to get them to stretch around my rims. I'm not looking forward to getting a flat out on the trail and having to put a new tube in. Once the tube is inflated it seems to work out ok.
Thank you for your feedback.
2 of 2 customers found this review helpful.
better than buytl
These tubes are lighter and hold air better than butyl. This will allow me to carry .25 cups of extra water because of the weight savings. 2 wheels plus spare tube and you can carry .75 cups extra water for $90 bucks. Weight weenies rejoice.
Thank you for your feedback.
Cycling Enthusiast
vermont
1 of 2 customers found this review helpful.
nice alternative to tubeless
Wintertime in new england, changing tires often, no need to mess with sealant, I forgot how easy tubes are and these are super-light and reasonably tough, you can use glueless patches too, they are a little strange to install as you have to stretch them a bit, but you'll get used to it.
Thank you for your feedback.