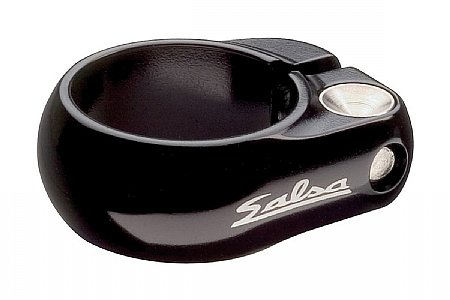 Cycling Enthusiast
Bend, OR
Competitive Racer
Maui Hawaii
7 of 7 customers found this review helpful.
Nicely made, does what it's supposed to
It's a binder clamp, what can you say? It's well made, I've had several and none have fatigued in six or seven years. The lip on the top is a nice touch. They look beefy but are reasonably light. Be sure to order the correct diameter, not your seatpost diameter but the seat tube, don't ask why I brought that up. Comes in black and silver, I have one of each, they both look great. I use them on two different carbon Cervelo frames.
Thank you for your feedback.
Cycling Enthusiast
Philadelphia, PA
0 of 1 customers found this review helpful.
Solid Performer and Low Profile Looks Good too.
I was having an issue with my seat dropping down slowly and occasionally even twisting during my ride. I would have to stop intermittently to readjust it during the ride. I swapped out the factory quick release for this beefier Lip-Lock and the seat now holds firmly in position. As a bonus, I no longer have to worry about someone flipping the lever and walking off with my saddle. I highly recommend this over the stock seat clamp. You will not be disappointed
Thank you for your feedback.
Cycling Enthusiast
winter springs, Fl
Cycling Enthusiast
Phoenix AZ
Competitive Racer
Portland, OR
9 of 9 customers found this review helpful.
Totally Mark-approved upgrade to any bike
This is just one of those things that you lump in to the cost of buying a new bike, along with a Thomson post and and whatever saddle you prefer to ride. Even top end bikes usually come with some glorified pipe clamp with a junk bolt threaded directly into low quality aluminum. Strippedloose seat binder tops the list of unlikely equipment failures that I hear from DNF'd racers all the time. Get your saddle where you want it and then KEEP IT THERE. The steel nut-insert in this makes it about infinity percent better than most stock binders and the bolt is a nice big hex size that you will never strip. It's like one gram heavier... do it.
Thank you for your feedback.
Cycling Enthusiast
Los Angeles, CA
Cycling Enthusiast
Redlands California Home of the Redlands Classic