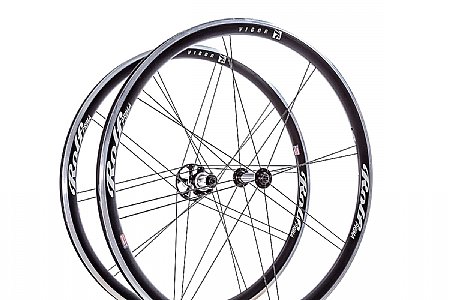 1 of 4 customers found this review helpful.
Solid geometry but miserable for TL
In tubeless revolution I have bought
4 sets of wheels for our family . I like
Oregon built ROLFE but they are too tough to mount schalbe pro one TL on . Seem to be
A few mm bigger ? I may throw them away
From fear of being 3 hours out and tired
With out metal spoons and unable to fix
Flat . Love our 3 letter wheels . I can mount
A TL with very little effort and fix on road .
Thank you for your feedback.
Cycling Enthusiast
Cape Cod, MA
1 of 1 customers found this review helpful.
A great wheel for the price.
I have put almost 6000 miles on this set of Vigor Clinchers since March 1st, 2019. They ran up 'true' from the start. A decent weight savings upgrade from my stock wheel set. I highly recommend watching the instructional ROLFPRIMA.COM clincher installation video. Some needed tips for removing and installing new clincher tires. I paired these wheels with the new Continental GP5000's for a season long riding experience.
Thank you for your feedback.
Cycling Enthusiast
New England
2 of 2 customers found this review helpful.
A great wheelset upgrade.
I have been a triathlete and cyclist for 40 years. I primarily ride Gran Fondo events of 80 miles now. I cycle here in the Northeast some 6000 miles a year. The Vigor's have been a great wheel set upgrade from the out of the box Bontrager's that came with my Trek Madone. They roll up to speed quickly and stand up to hard out of the saddle climbs. They came to me 'true' out of the box and through my first 1000 miles they have performed perfectly. The tire installation video on the Rolf website was hugely helpful in navigating the inherent problems of mounting conventional clinchers on rims that would accommodate both clincher and tubeless setups. I love the unique look of the sparse, paired spoke setup. In the Northeast, winters bring out the best in potholes and so far the numbers of unavoidable hazards have been handled well by these wheels.
Thank you for your feedback.