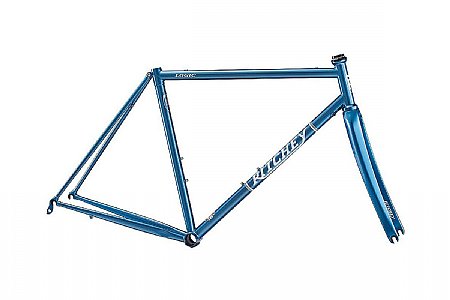 Cycling Enthusiast
Winter Park, FL
6 of 6 customers found this review helpful.
Destined to be a Classic!
I wanted a more traditional styled, steel road bike with modern components. Built a 55cm Road Logic with Shimano Ultegra components, Ritchey WCS seatpost, bar and stem and H Plus Son Archetype wheelset. I didn't actually weigh it, but was surprised how light it is for a steel bike and compared to my Specialized Tarmac.
Bike is fast! Rides and handles great. Geometry works well for me. Framefork quality and finish is excellent. Receive a lot of compliments on its looks. I'm very happysatisfied with my purchase.
Thank you for your feedback.
Cycling Enthusiast
Houston, TX
3 of 4 customers found this review helpful.
Fast and comfortable!
I came off a very stiff, yet very fast carbon road bike. I was expecting this frame to be noticeably slower given that it's steel, but I was ok with the trade-off as I was really after comfort. I was pleasantly surprised to find out this bike is just as fast as my carbon frame and is vastly more comfortable. I'm a total steel convert and am completely in love with this frame. Ritchey did a great job designing this one. Can't wait to get a SwissCross to go with it!
Thank you for your feedback.