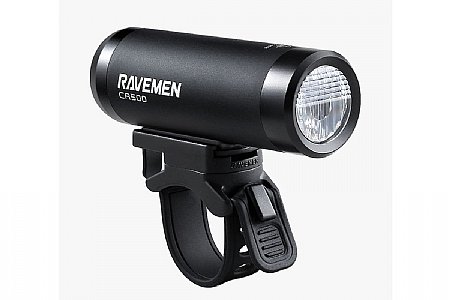 by
EnlightenedRiderNorCal
Cycling Enthusiast
Northern California
2 of 2 customers found this review helpful.
Works as promised, Wide beam is awesome
Ravemen optical design works as promised in this CR500 model. Beam is wide and sweeps forward with a smooth gradient. Provides great illumination that is surprisingly steady when swerving. Lights that have more of a spot pattern can make you dizzy when turning corners or pedaling out of saddle. I did not realize the difference until I tried this wide beam. The trade-off is distance.
Tested alongside Cygolite Zot 250, the Zot delivers an extra long beam that is not as wide or full as the CR500. Combining both lights, the CR500 fills the near-field void left by the Zot, and the Zot throws more light into road signs and reflectors far away. I cannot say which one is more visible to oncoming traffic.
The CR500 has a cutoff line preventing glare. I even got a compliment from a pedestrian -- "Nice lights!" -- as I rode by at night. The light beam has a more natural color instead of cold blue. The pulse flashing mode is easy to live with, day and night, and does indeed last 15 hours! The mount fits 31.8mm handlebars and allows slight adjustments up and down. Comes with the updated mount when you order from Bike Tires Direct. Although the light cannot run while charging, there are enough modes to manage your runtime in case you forgot to recharge. Great light.
Thank you for your feedback.