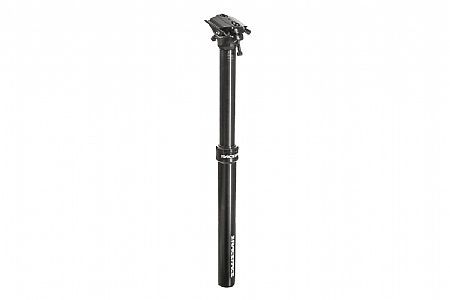 Cycling Enthusiast
Santa cruz
6 of 9 customers found this review helpful.
It is apparently still in pre-production
I had high hopes for this particular post. After hearing excellent reviews from the 9point8 falline dropper post. I assumed that the same technology used in the turbine post should offer similar results. and i was wrong.
After having it installed by my LBS i took it out to the parking lot to see how it holds up. The lever movement is stiff and unresponsive, and the post would shoot up at speeds equal to the fox doss at around 1 cm of actuation of the lever. The resulting sound is a harsh clang. The problem is that it is virtually impossible to use the infinite adjustment because the post would simply not stop in the middle. Its either all the way up or all the way down.You can always have the post smash into your ass half way up its travel to achieve that mid riding position, but i want to populate the earth so no thanks. where as on my old reverb i can press the actuation half way and the post would rise up slowly to the position that i wanted.
soon, after moving the post up and down a couple times, the post wouldn't stay all the way down, but would spring up 2-3 inches from the bottom. I assumed that the mechanical brake that is holding it in position isn't strong enough to keep it down, and reduced the air pressure to 25psi - within the recommended setting of 20-40. That's when things went from bad to very bad. The post stayed down all the way without springing up, so that's good. However, I found out that i can move the post through its travel simply with a push with my hands ( I'm not pressing the lever or anything). I then changed the psi back to about 35 and tried again. Not did the post not stay down all the way but it also can move up and down almost freely. I can only assume that the mechanical brake on this post is broken.
So in the end the post lasted roughly 45 minutes.
by that time the a LBS mechanic came out and fiddled with the tension adjustment on the lever, but it didn't do much.
Thank you for your feedback.