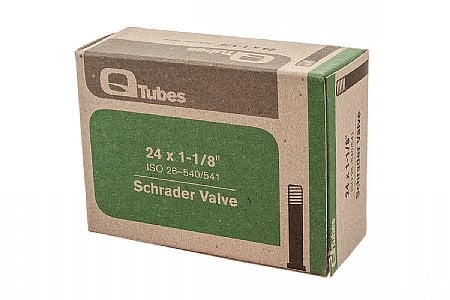 2 of 2 customers found this review helpful.
quality tube with NO Quality
Purchased two of these for a 20 junior mountain bike. No trouble on initial install, but after bringing up to full pressure the air chuck caught on the front tube stem, and while trying to untangle the stem separated from the tube. Hopefully the rear one will last longer. Purchased new tires and tubes, but this tube didn't even make a ride before coming apart.
Thank you for your feedback.
Casual Cyclist
Phoenix, AZ
4 of 5 customers found this review helpful.
Be careful which one you choose.
I use two of these on the front of my tadpole trike with 406mm diameter wheels. I tried the 20 X 1-18 to 1-14 Schrader valve version first. The tube crossection was 30 mm minimum and the tube accordianed inside the tire. A bike mechanic warned me that a tube in such condition would have a very short life. When I installed the first one there were two pinch punctures. These tubes are made of thinner rubber than regular bike tubes. My wheels are double walled and have recessed holes for spoke nuts. The tubes ruptured when inflated to 95 psi because they were cut by the edges of the holes. Wide wheel liners fixed this by covering up the holes.
The Presta valve version has a 28 mm crossection and smaller overall diameter. These worked fine (with the new wheel liners) and installed much easier. One still must take care to avoid pinch flats with 406 diameter rims and tight tire beads.
BikeTiresDirect.com Comments
We agree that it is important to pick the correct size tubes. It is better to use a slightly narrower tube so that it will not fold or twist inside of the tire. Be careful, as well, not to pinch the tube under the bead of the tire - this is easier to do with a correctly sized tube.
It is also important to use rim liners (aka rim strips) to protect your tubes from either the holes for recessed spokes (as above), or the protruding ends of spokes with a single-wall rim.
Thanks,
Theo
Customer Service
Thank you for your feedback.
Cycling Enthusiast
California
3 of 4 customers found this review helpful.
Good Tubes for the Money
I bought these tubes for my new Kenda Kwest tires I put on my folding bike. The tires take up to 100 psi so I thought new tibes were advisable. So far I have no complaints about the Quality Tubes which are made by Kenda also.
Thank you for your feedback.
Cycling Enthusiast
Hattiesburg,ms
6 of 6 customers found this review helpful.
Good quality tubes make for good ride, with no flats.
I ride a recumbent trike, a tadpole style. I recently changed the stock tires and tubes which were 60lb max psi to tires and tubes that handle a max psi of 100lbs. It really seems to have improved my average speed. The ride is a little rougher, but no concern to me as I ride mostly bike greenways, like the Longleaf Trace in Hattiesburg, ms and Shelby Bottoms in Nashville. Also switched to presta valves, which are a must I feel, when using high pressure tires and tubes. This is a great quality tube at a great price. Love shopping with Bike Tires Direct, great service with super fast shipping.I have a little over 3,000 miles on the trike and hoping to upgrade to a lighter one soon. Thanks guys! dan h.
Thank you for your feedback.
Casual Cyclist
henderson nevada