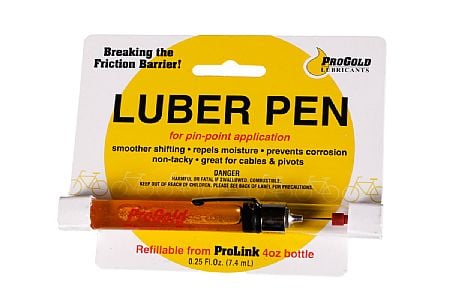 Cycling Enthusiast
Raleigh, NC
Competitive Racer
Tennessee
I got a luber pen with the same issue. Nov 2015
I ordered this ProGold Luber Pen and experienced the same as the other reviewer. Something is inside it and looks like tissue mixed inside. I called the Atlanta Ga Office and was told they have gotten some calls and it was ok to use it. I requested to speak with the tech dept and was transferred to a voicemail. I gave a detailed problem about this pen. After 5 days I have not received any call back. I will not be buying any PROGOLD products - I sent my tube to the EPA for inspection.
Thank you for your feedback.
Cycling Enthusiast
Nash County, NC
4 of 4 customers found this review helpful.
Sediment in the lube, ProGold says they are aware but use it anyway?
When I received this lube I noticed there was some sort of sediment floating around in it, not just a piece or two but sort of like what you see in the bottom of a tea glass after sitting for a while. I contacted ProGold and their customer service was excellent. They even took the time to relay my concern to a sales representative and call me back. They indicated they were aware of the concern as if others had reported the same. They also indicated that shaking the container would not redistribute or disburse whatever was floating around but to go ahead and use it as it would not produce any adverse effects.
Well, I'm not excited about using a high quality lube with a bunch of whatever floating around in it. It's not worth the hassle or expense of sending it back in my opinion. I plan to dump the lube out and just use the pen with a DIFFERENT lube. Save your money unless you just want the pen IMO.
Thank you for your feedback.
Cycling Enthusiast
Minneapolis, MN
Makes precise oil easy to apply
Needle dispenser makes applying lube to exact spots much easier. Finally used it yesterday when I did a deep clean and lube on my daughter's 15 year old comfort bike. Doubt any maintenance had evert been done on that bike. This product made the job much easier.
Thank you for your feedback.