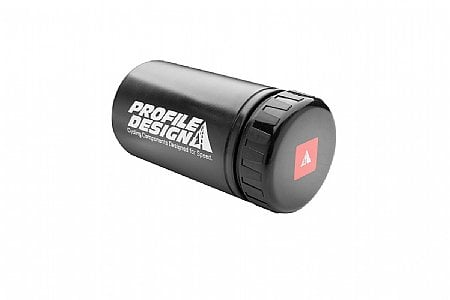 1 of 1 customers found this review helpful.
Great Storage Alternative to a Saddle Bag
I've got a spare road tube, a pair of Park Tool TL-4.2 tire levers, two CO2 cartridges, an inflator tip and a micro multi-tool stuffed into this canister. When I don't need a second water bottle on a ride I switch from my saddle bag to this canister to minimize the things hanging on the bike. Looks cleaner and it's easier to keep clean vs. the saddle bag.
Thank you for your feedback.
Cycling Enthusiast
Key West, FL
Cycling Enthusiast
Central Oregon
3 of 4 customers found this review helpful.
Lid Wont Stay Secured
For starters, Id like to say that profile design has excellent customer service. With that being said, Ill move on to the review of the product.
The first storage bottle I had lasted for less than a month. I was using it in a standard bontrager bottle cage on my mountain bike. When I returned from my ride, I noticed that the lid to the storage bottle was missing. Luckily nothing fell out. I thought it wasnt a big deal because I could use another water bottle lid as a replacement but standard bottle lids are too small. I contacted customer service and they replaced the entire product for free. They suggested not to use the bottle for mountain biking because they hadnt tested the product on off road terrain.
The second storage bottle lasted less than two months. I used the replacement that they sent me on my time trial bike in a standard xlab accessories bottle cage. On the bike portion of Ironman 70.3 Santa Rosa, the lid came off AGAIN and I lost my multi-tool, CO2 accessories, and a valve core remover. Luckily I didnt get a flat on the course.
Suggestions for the company, maybe use a thicker plastic and a rubber O-ring on the lid so it stays more secured. But until then, I wouldnt recommend this product to other cycling enthusiasts.
Thank you for your feedback.