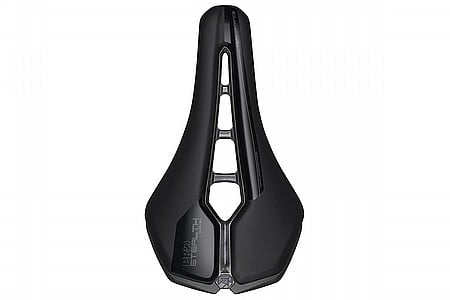 Competitive Racer
Durango, CO
1 of 1 customers found this review helpful.
Closest thing to heavenly buns
Like many riders, been in a constant search for that "perfect" saddle to feel right. Experimented with over 30+ saddles over the many years and when I tried this Pro Stealth Curved....I felt like I finally found something that works, feels good, is lightweight, and keeps me from numbness in the Nether-regions and also doesn't create tingling in my legs after 20 min of riding due to pressure on inner thighs. PRO has quality construction, nice supportive padding w/o being too firm like Fizik, and looks cool. Round rails have a nice amount of fore-aft adjustment and are plenty strong. Saddle nose still has enough length to move forward comfortably on for steep climbs. I set saddle nose level so tail swoops upward and then I have something to push against. After first ride, I did detect slight movement in shell nose on rail, but it has not worsened or made any noises so far after hundreds of MTB miles. In fact, I like saddle so much, I bought another for my CX bike.
Thank you for your feedback.
Cycling Enthusiast
Chantilly, VA
more suited than Stealth
I found Pro Stealth model to be comfortable on the nose, but not as much on the tail bones. The curved fixed that issue. So far this is the most comfortable saddle I've ever used. I feel comfortable on Specialized Power saddles for about 1.5 hrs. then it turns into a torture. Stealth curved give me a long lasting comfort.
Thank you for your feedback.