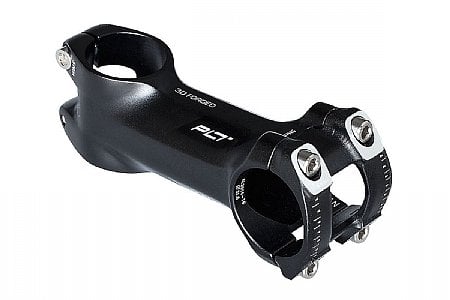 Great Value!
I was using a 100mm -10 on my CDale Scalpel and really liked it. Looked great, -10 degree was less than the -17 I was using but decided to stick with it. I recently escaped California and moved to an area that actually requires you to turn, LOL. Went to the 90mm -10, what a difference! I should probably experiment with a -17 80mm. Prolly won't because I really like the look of the PRO PLT. I don't think it comes -17.
Thank you for your feedback.
Cycling Enthusiast
NE Pennsylvania
High Quality Stem at a Good Price
The PRO PLT stem is finely machined with a part-gloss and part-satin finish. Two bolts on the handlebars and two bolts on the steerer tube have eliminated the handlebars from gradually rotating downward and the sharp snap sound that occurred when hitting bumps when the original single-bolt (at the handlebars) Thomson Elite stem was mounted.
The only drawback of this stem is that the shiny silver flat surface where the handlebar bolts mount can reflect brightly into the eyes when riding into the sun.
Im happy with this purchase. The stem is light, solid, secure, sharp, and a good value.
Thank you for your feedback.