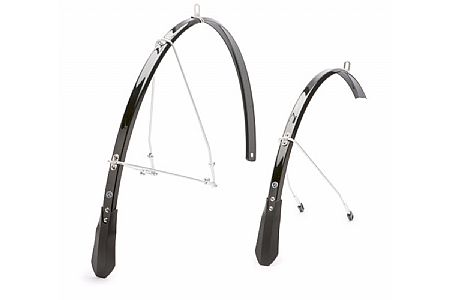 Cycling Enthusiast
Mississippi
2 of 2 customers found this review helpful.
Good maybe not great, yet
The fenders are adequate enough, I'm not sure I will like the polycarbonate better than metal. The mudflaps work fine. Not all the hardware was in the package, it was missing 4 washers. Otherwise the fenders seem stable and capable for around town riding.
Thank you for your feedback.
Cycling Enthusiast
Pacific Northwest
6 of 6 customers found this review helpful.
Very satisfied. This is a good quality product.
Portland Design Works appears to be a great company. This is my first time buying one of their products, and I am happy with the purchase.
I don't have experience with Portland Design Works' metal fenders. I was turned off from those because of the price. Along came these plastic fenders which appear to be identical except for the material, and they are a more reasonable price. I couldn't resist, and I needed some fenders to extend the season.
Construction of the fenders is very minimal, and I really like that. There aren't any weird or nonfunctional additions to the design. They are also very solid, and once you finish any necessary tweaking, they are free from further maintenance.
I bought the 30mm road fenders for my steel Pinarello. The clearance in the bike is fine, but clearing my 6800 Ultegra brake calipers is very, very tight. There just isn't a way around the tight clearance, and I am using 23mm tires. If I had to estimate, I would say there is little more than 1mm of space between the tires and the fenders at the brake calipers. But they work! They don't make noise except for the occasional pine needle getting sucked through a tight spot. If I was worried, I could trim some material from the corners right where the fender contacts the caliper, but I haven't had any trouble yet.
My bike doesn't have eyelets. I attached the fenders to my bike via P clamps wrapped around the framefork tubes. The fenders come with adapters for bikes without eyelets, but these adaptors attach via quick-release skewers. I didn't want to monkey around with aligning things on the road if I had to change a flat, so I opted not to use the provided adaptors. P clamps are the way to go for me.
Coverage is great! My shoes do not get sprayed by the front wheel. I have been on a few wet group rides, and guys behind me report that they can draft closely without being sprayed by my back tire. Portland Design Works got this very right by designing these fenders with full enough coverage over the back wheel for group rides.
Thank you for your feedback.