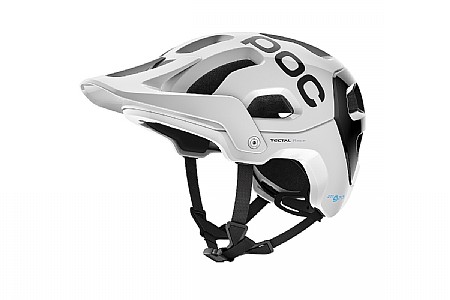 Cycling Enthusiast
Minnesota
Premium product for a crucial use
I ride with POC helmets because of their fit and ventilation on and off-road. I ride with this helmet off-road because of the additional shell down towards the base of the neck and near the ears. I have a melon head and a neck like a linebacker, but the extra material doesn't interfere with movement. I haven't durability tested one yet, but I'm confident this is as good as it gets for open-face protection.
Thank you for your feedback.
1 of 1 customers found this review helpful.
Excellent Helmet
I decided to purchase this helmet after doing a little bit of research. I really wanted to get something that had the MIPS technology integrated but after learning about the SPIN tech found in this one, I decided it was just as good if not better. Ive always loved the look of the Tectal Race helmet and was pleasantly surprised when it fit my odd shaped head. BLUF if youre looking for the best thing to put on your head when shredding the local trails, buy this helmet.
Thank you for your feedback.
2 of 2 customers found this review helpful.
Excellent helmet
I tried on several different brands before deciding on the POC Tectal Race Spin. It was tops for comfort and the extra coverage is what I was looking for. When riding it vents very well. I wear eyeglasses and I have had no issues with the helmet contacting my glasses. The Spin lining is gel like and very comfortable......more so than other brands I tried on with their versions of protection. The straps fit my head perfectly and are easy to adjust. Expensive, but in my opinion the high level of comfort and protection is worth it to me. Highly recommended.
Thank you for your feedback.
Cycling Enthusiast
Kenai, Alaska
1 of 1 customers found this review helpful.
Performed well in a crash and well ventilated
I have used a number of helmets for road and mountain. This one is well ventilated and has a comfortable fit. I was in the mountains on a narrow track and hit a washed out culvert hidden by overgrowth. I fell into a ravine and hit hard on a pile of rocks. I knew I hit my head, but I didn't get the jolted feeling I've had in other helmets. There was a deep focal dent in the helmet where it hit the pointy end of a rock. Not to over-dramatize but the helmet probably saved me from a very serious injury. Whatever they do to engineer these things to cushion the brain worked for me. This is a single anecdote, but I will put my kids in POC.
Despite being expensive, given that it did its job extremely well, I give it a high-value rating. Your local hospital probably charges more for a bandaid.
Thank you for your feedback.
Cycling Enthusiast
Los Angeles, California
3 of 3 customers found this review helpful.
Solid protection, room for improvement
My head circumference is 60 cm so I bought the XLXXL. I'm new to mountain biking and wanted to use a mtb specific helmet instead of my Kask Protone to have more coverage for my temples and occiput. My first thought coming from my road helmet was that the Tectal was huge in comparison (but that was what I was looking for) but unfortunately not very comfortable. My main complaint thus far is the retention system. While the chin straps are fine (integrated into the helmet on either side is always better than a single piece that twists), the issue is the adjustable portion at the rear. Because of how deep the helmet sits on my head, these extremely thin, fairly sharp edged straps run just above my ears (a lot lower than a normal road helmet). Because I have little hair here, the straps put uncomfortable pressure on my skin. Because the helmet sits low, it's also lacking a bit of padding in the front for my forehead (the SPIN pads are super minimalistic, especially in XL when they don't appear to enlarge to fill the helmet as they do in smaller sizes). So I have a pretty big head but I can definitely see some head shapes andor short hair cutsbald riders not working well with this helmet because it has so much coverage and uncomfortable retention straps.
Thank you for your feedback.
Cycling Enthusiast
newburgh ny
3 of 3 customers found this review helpful.
very comfortable helmet
I have many helmets over the last 30 years of riding. The POC is by far the best fix most comfortable and stable helmet I have use.
I can't see my self buying anything else.
Thank you for your feedback.
1 of 1 customers found this review helpful.
&- compared to Trabec race Mips
Better ventilation compared to Trabec. Helmet shape is different though and the Trabec fits my head shape better. This tectal has the Reese retention system retracted as far into the helmet as possible (quite difficult to adjust as it feels like youll break it) and I still get some pressure feeling from the front of the helmet on my forehead.
If I could have the overall fit of the Trabec with the improved visor and ventilation and Spin system, Id be super stoked.
Thank you for your feedback.
Fits a bit funny
This helmet feels protective and is lightweight enough that I forget it is there. It also looks good and vents well. That said, I have to loosen the rear adjustment each time to take it off to avoid the padding pealing back when I put it on. The next time. It is also a bit difficult to tighten because the back of the helmet conflicts with putting fingers on both the top and bottom of the scroll.
Thank you for your feedback.
Cycling Enthusiast
Arizona
Comfortable, styling helmet!
You get what you pay for with helmets and this was a great use of money. I mean, if you think about it, a helmet is one of the best investments you can make. The POC Tectal fits great, has good airflow, and is an all around solid helmet. Been very happy with it.
Thank you for your feedback.
Competitive Racer
Huntsville, AL
2 of 5 customers found this review helpful.
Hate this Helmet
I think POC makes the best (safest, best looking and highest performance) mtn bike helmet on the market. I had the POC Tectal ($190 version) and had a brutal head first beatdown. The helmet protected my head well but broken nearly every bone in my body. Once I recovered and was ready to race, I opt'd to spend more on the expensive POC Tectal Race SPIN helmet (M/L). I hated that helmet. It is huge and felt like I was wearing a space helmet. I sent a note to POC to highlight my concerns with this ridiculously oversized helmet and the rep basically told me to pound sand. So much for customer service. Despite POC's not so nice reply, I went ahead and spent another $190 for the tried a true POC Tectal helmet (S/XS). I love that helmet! It fits great and looks fantastic. The POC sizing is odd. I should be a Med but POC has either S/XS or M/L. The S/XS fits perfect but it worries me to be wearing that size. I now have a $229 POC Tectal Race SPIN that I've worn 3x sitting in my garage. Perhaps I can dump it at a yard sale..
Thank you for your feedback.
2 of 2 customers found this review helpful.
Nice design but the fit is awful
I like the design of this helmet, covering the back and front of the head nicely. However, the helmet requires a very tall head. I have a large head circumference, so need the XL size, but the helmet comes down to my eyebrows and, because it wraps nicely around the back of the head, there is no way to adjust this. I have worn it for two very uncomfortable rides - I have to tilt my head way back to look down the trail and it rattles on my prescription sunglasses. I am going to have to buy a different helmet - this one is not safe for me. I had the Trabec and loved it, until a crash broke it. It fit well, covered my head nicely, and was light in weight.
Thank you for your feedback.