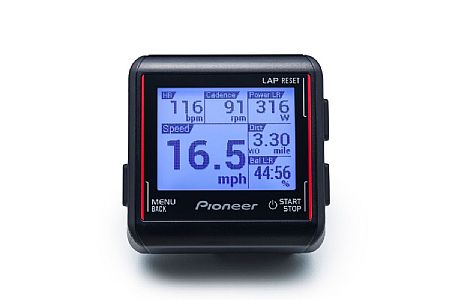 3 of 3 customers found this review helpful.
Disappointed and Frustrated
I wanted dual side power meter and use Speed Play pedals so decided to give Pioneer a shot. Purchased the Pioneer Kit (mail-in your crankset, they install the LR strain power meters) and the SGX-CA500 from Biketiresdirect. Initial impressions are very poor...the user interface of the SGX-CA500 is clunky, not very intuitive and the instructions aren't the greatest. The real killer is that the touchscreen interface is very flaky and often unresponsive to simple finger presses and swipes. For example, it literally took me several minutes (perhaps 5?) to type in my email address on the device - 5 minutes of total frustration trying to complete a simple well-defined task...imagine if you are trying to explore features on a new, unfamiliar device. Scrolling through menus is impossible at times (it just won't respond to a swipe in order to scroll through the list), at other times it is manageable. I'm pretty much commited (stuck?) with the power meter so I am still trying to decide if I want to bother with a replacement SGX-CA500 or just return it for a refund and get by with my Garmin. For the life of me I cannot imagine a company like Pioneer releasing such a poorly designed and executed device in this day and age. I greatly regret not waiting for the Shimano Dura Ace 9100P.
Thank you for your feedback.
Cycling Enthusiast
SFO Bay Area
Well made display hardware which enhances Pioneer Power Meters
The Pioneer Power Meter Kit is especially useable when this little display is used to get, display, and log data from the Power Meters ANT wireless outputs during each ride, and then automatically wirelessly feed stats into 'Cycloshpere' on my 802.11 WiFi wireless networked Mac (or PC) at home, and on my IoS-based apple Iphone. I just had to download the MacPC IoS software and then update the SGX-CA500's firmware first via WiFi. It is not easy to get the wireless network namepassword entered in the SGX device, but that is the key to success. Then I was able to one-time calibrate the LR gauges using the SGX device as instructed by Pioneer. I can now see the power results and ride distance along with other useable stats. I can look at instantaneous (albeit with slight delay) from this little display mounted on the handlebars, the daily, monthly, yearly, statistical results reflecting my leftright leg power gains when riding with the Pioneer Power meters.
Overall recommended.
Thank you for your feedback.