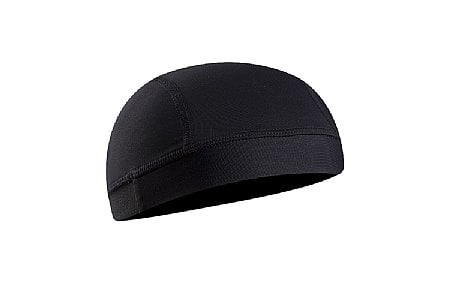 Excellent for Hot Weather
I ride in Florida and wear this skull cap under my helmet to protect my bald head from the sun and to keep sweat out of my eyes. When the cap is wetted it provides great evaporative cooling. The fabric is light and the cap fits great. I have used several other brands of skull caps, but this is the best.
Thank you for your feedback.
1 of 1 customers found this review helpful.
This skull cap changed this old geezer's life
I shave my dome completely bald now that I am in my late 50s, and it used to be that my hair would catch some of the sweat coming off the top of my head and prevent it from streaming down my face and into my eyes. No more: once my body temperature rises to a certain temperature on a ride, a point comes when I don't just start to "glow" - the sweat just pours off me, like a dam bursting. Well this cap is a brilliant solution. The wicking material stops the dome sweat, and the elasticized temple band sops up the sweat on it's way down to my eyes very efficiently. I don't need to spread sunscreen over my dome anymore, because the skull cap is SPF50! Last summer I had to stop and dab a rag every five miles because of the sweat pouring down, but this cap just lets me ride on a summer day. I need to get a couple more, actually.
Thank you for your feedback.
Cycling Enthusiast
Rural Pacific Northwest
Great product
This is great for warm weather riding, much cooler than wearing a bandana under your helmet and just as effective at keeping the perspiration out of your eyes. Haven't used it long enough or washed it enough times to see how it holds up. If they could bring the price down, I would buy several more.
Thank you for your feedback.
Cycling Enthusiast
Hood River, OR
Sun Protection
My Dermatologist recommended I use more sun protection while riding. Long hours had done damage to the forehead. This works perfect and is not uncomfortable on hot days under the helmet. It is double material in the front and help as a sweat band. The one I got is white.
Thank you for your feedback.
Cycling Enthusiast
Pico Rivera, CA
1 of 1 customers found this review helpful.
Comfortable skull cap which fits nicely under the helmet
Great fit in my opinion as it covers the hair but does not stick out beneath the edge of the helmet in the front. There is a little red tag on the top which makes it really easy to remove by just lifting on the tag.
I have several different skull caps that I regularly use since I ride practically every day. I like skull caps because thy reduce the stench on my helmet pads and straps. This particular one has a tighter weave but breathes very well even on warm days. I have not had an opportunity to wear it yet on really hot summer SoCal days. I have some very light skull caps and a thick winter like one with protection for the ears. This skull cap seems to fit in between from a temperature perspective. I plan to acquire a couple more now that I have tried it and like the fit and quality.
Thank you for your feedback.
Cycling Enthusiast
Florida
Cycling Enthusiast
the mts. between Scappoose and Vernonia, or.
Cycling Enthusiast
Charlottesville, VA
3 of 3 customers found this review helpful.
If youre bald like me, you need this
I use a skull cap in all conditions. For colder temps, I like a thermal cap. But for temps over 45, this is my go to cap. It keeps my head cool and covered from sun, and does an adequate job of soaking up sweat. I have two that I keep in rotation so I can wear one while the other is in the wash.
Thank you for your feedback.