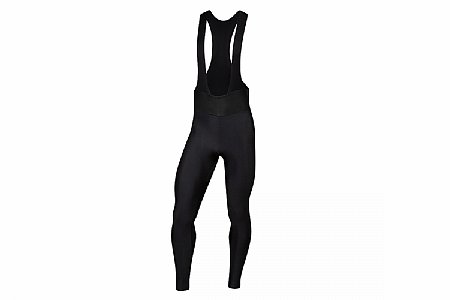 1 of 1 customers found this review helpful.
Good for cold weather riding
These are pretty thick and work to keep me warm. They're a little too heavy to wear say in the 50's, but work well when it's colder. I'm 5'8" and 155lbs and Medium are just the right size. They fit snug so I still feel aero when wearing and do a good job at blocking wind. I haven't ridden them in a downpour because I'm not too keen about riding in the 30's / 40's plus water. So I mainly just use them in cold weather and they do a good job.
Thank you for your feedback.
Cycling Enthusiast
Maryland
1 of 1 customers found this review helpful.
Warm, wish they were a little longer
I have an older pair of PI Amfib tights that have held up pretty well so this winter I bought a pair of the AmFib and the AmFib light bib tights from BTD. The new ones have excellent water resistance but the legs seem to be shorter and that is made even worse due to a design change. The older ones have a stirrup at the bottom so the tights would stay in place while pedaling and have a heavy cuff that can be pulled over to outside of my winter shoes. That is great for keeping water out of the shoes. If these had that feature they'd be 5 stars.
I have a 34" inseam and these just barely work for me. I can start a ride with the bottom of the legs tucked inside my shoes but after riding for a while the tights will work their way up to around the top of the cuff of the shoe. So if I'm riding in rain or slush I use my older pair which will keep water out of my shoes. The AmFib light tights are a little better as the legs are a bit stretchier so they don't seem to move up as much during a ride. Considering that one of the features of the AmFib tights is their water resistance I hope PI will bring back the stirrup design.
I use the AmFib tights in temps from mid 30s (F) and down, and the AmFib light tights from mid 30s to mid 40s. I also plan to use the light tights in slightly warmer temps when riding in the rain.
Thank you for your feedback.
Cycling Enthusiast
Berkshires
1 of 1 customers found this review helpful.
Swing and a miss
I was looking to replace my Giordana G-Shields that got ruined after an accident, and these were on sale. When they arrived I was still in a brace and couldn't try them on, but once the return window passed I was able to pull them on. The panels lack stretch, and are oddly cut. I couldn't send them back, and they don't fit. Sad!
BikeTiresDirect.com Comments
Get a hold of us, we might still be able to do a return for store credit!
Thank you for your feedback.
2 of 2 customers found this review helpful.
Best I�ve Ever Had
These are the best bib tights that I've ever had. Very comfortable in a wide range of temperatures. Very pleased with this purchase. Like them better than my Assos. Don't believe I've said that about anything else before!
Thank you for your feedback.
Competitive Racer
Portland OR
Cycling Enthusiast
N.W. IL
1 of 1 customers found this review helpful.
comfortable fit
It took 3 pair to get the right fit, but I finally got a pair that does. I'm 5'10' 180 lbs. and had to get the xxl. I've worn them with temps in the upper 20's F. I ride in colder weather also, and have to wear something more for that. Overall a good fit.
Thank you for your feedback.