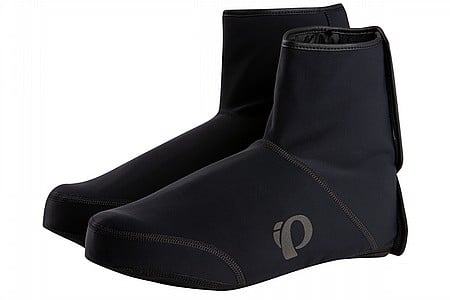 1 of 1 customers found this review helpful.
Quality shoe covers that provide extra protection against cold
I use these as a base layer over my mountain bike shoes. Large fits easily over 44s. I mention that because I had an earlier version of these from 20 years ago that were really difficult to get over your shoes. Since I ride in sub zero weather, I do add another (cheaper) XL shoe cover on top and wear battery heated socks. But these covers provide a nice insulated seal against the elements. I will wear these covers alone if the weather is 20 - 30 and that works for me.
Thank you for your feedback.
Cycling Enthusiast
North Carolina
4 of 5 customers found this review helpful.
Easy to put on, good to about 40 degrees F for up to 2 hours for me
These are reasonably good shoe covers, but I do wish they were a little warmer / air proof. I am what most folks would call an avid rider - ride about 150 miles / week just for fun and exercise. I tend to ride in dry but windy conditions. I was looking for a boot cover that would take me down to about 30 degrees F for up to 2 hours so I can ride outdoors in the wintertime when its not too crazy cold. I found these covers reliably keep my toes from feeling numb down to about 40 degrees F - if I ride below that my toes start to suffer on rides longer than an hour. If I want to ride in the 30's, I've taken to putting plastic bags over the shoes (under the covers) to help block some of the wind, putting two layers of socks on, and plastic bags over my toes. By the end of 1 1/2 - 2 hours, if its say 35 degrees out and windy, my toes are numb and I've had enough. Of course your experience will vary, but that my two cents. On the plus side they are very easy to put on. I wear a size 43 Wide shoe and bought the Large size Amphib cover and they are plenty big - they would certainly accommodate a larger size shoe.
Thank you for your feedback.
Daily Commuter
St. Louis, mo
6 of 6 customers found this review helpful.
Good, but just short of perfection
After Gore Wear inexplicably discontinued their Goretex Thermo overshoe (what the hell they were thinking), this became the best available shoe cover.
Two of my friends are very satisfied with their purchase
Velcro closure beat zipper any day. More reliable and last longer, and far easier to put on and take off.
Extra insulation with primaloft extends the range of a regular shoe to a temperature below 20F for 1.5 hr.
Thee are two areas that can, and should improve:
- outer membrane should be water proof, instead of water resistant
- it needs extra length to extend beyond mid calf
Thank you for your feedback.