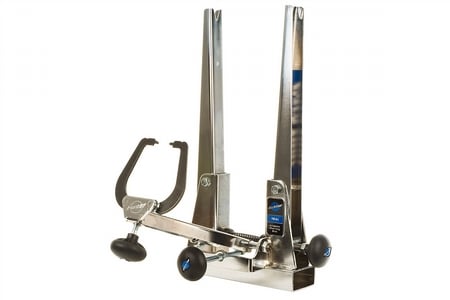 Cycling Enthusiast
Vancouver, BC
5 of 7 customers found this review helpful.
Zen & the art of wheel truing . . .
As an amateur bike do-it-yourself'er, I have always wanted one of these and have finally justified purchase for 4 bikes in family. Was excited to get it and impressed by quality. After truing some wheels, noted that tensionometer, dishing tool, and gauges are needed if one is anal about getting a perfectly true wheel. Since it can take up quite a bit of time & concentration, one must also be patient and must enjoy the art of wheel truing - if you are not into Zen experiences, you may want to just pay your LBS to do it for you...
Thank you for your feedback.
Cycling Enthusiast
Winnipeg, MB, Canada
One Stand To Rule Them All
I own this for my home shop. Yes it is probably overkill, I get that, but it is such a pleasure to work with quality tools. When you think that this will outlast you, your kids, your grandkids, etc., it doesn't seem like a lot. When buying tools why pay [$] for something that is okay when you pay [$] or so more and get something that is fantastic? (Note - I have learned the hard way that one year later paying the extra money is forgotten about but the quality or lack of quality is there for you to see, every time).
Finally, you should also purchase the tilting base helps stabilize the stand and holds spoke wrenches. Hope this helps.
Thank you for your feedback.