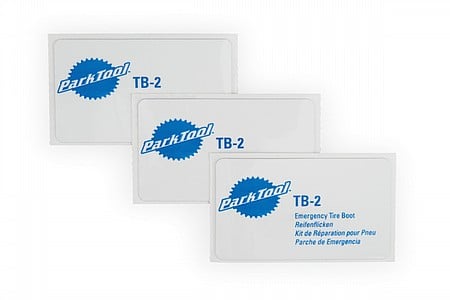 Cycling Enthusiast
Duluth, MN
Cycling Enthusiast
Essex, CT
1 of 1 customers found this review helpful.
Put these in your saddlebag
I got these in case I got a gash in a tire. You can use pieces of Tyvek (FedEx bags), dollar bills, or empty gel packets, but the advantage of these is that they are adhesive, so they stay where you put them. My first use was when I picked up a 1 screw that went through the rear tire and into the inside of the rim. I used scissors on a tiny Swiss Army knife to cut a piece of the boot to stick into the groove of the rim. The boot is thick enough to protect the tube from any bits of metal sticking up around the hole in the rim tape, and I got home no problem. The wheel is probably OK to use on the road, but just to be safe I'll use it on my trainer from now on. Glad I had these with me!
Thank you for your feedback.
Cycling Enthusiast
San Jose
2 of 3 customers found this review helpful.
I Never Thought I'd Need It Wrong!
I was on my touring bike w Conti 37mm TourRide. I went over some railroad tracks and the rear tire literally popped like a balloon. There was a big horizontal gash about an inch long on the bottom as well as the sidewall. After exhausting all the expletives in my vocabulary, I realized I had the Park Tool TB-2 Emergency Tire Boot in the deep recess of my saddle bag. I blessed it w a kiss and popped it into the tire. It worked like a charm. Yeah, I heard you can go MacGyver and use a dollar bill or PowerBar wrapper but why not spend a few bucks and have the proper tool at hand. I immediately ordered another one.
Thank you for your feedback.