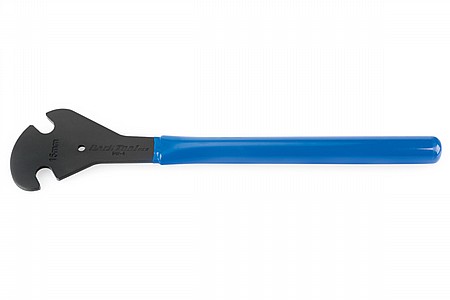 Cycling Enthusiast
Seattle, WA
Worth the extra money!
I just got this in the mail yesterday, with the usual extra-speedy delivery, and I am one happy camper! I first noticed the beef-factor of this thing when I pulled it out of the box and ripped it out of the plastic wrapping it was in, this wrench is a behemoth!
The handle being as thick, long and round (phrasing!) as it is really makes a difference in leverage and strength in compassion to the smaller one. I've stripped the metal teeth on the smaller one, but I can tell that won't be happening with this one! I've already switched out pedals on two bikes and it works so smoothly! I've got a compact and a standard front ring and my hand is clear of the chain and teeth by more than a fist!
Thank you for your feedback.
Cycling Enthusiast
Springfield, OR
Cycling Enthusiast
Minnesota
Great wrench
As always, specialty tools such as for bikes are over priced. But this one is less overpriced than expected.
This, compared to the old style wrench, is much easier and works a lot better. This is the pedal wrench to buy, for sure.
Thank you for your feedback.
Cycling Enthusiast
Columbus Ga
Cycling Enthusiast
Herndon VA
Cycling Enthusiast
Portland, OR
This is the one!
Finally got fed up with my Park HCW-6 (fine tool for travel but just to narrow on the hands and not quite enough leverage for removing pedals) and picked up this thing. It is a beast and just wonderfully designed. I've got older Speedplay X series pedals that only have one section for the wrench which makes orienting them to a spot where you can get leverage a huge issue. The two 15mm wrench openings at 30 and 45 degree angles make finding the right leverage spot easy and it's so long that you just have to firmly press down to break loose even the most stubborn pedal. Wish I would have bought this years ago.
Thank you for your feedback.